How to eat out healthily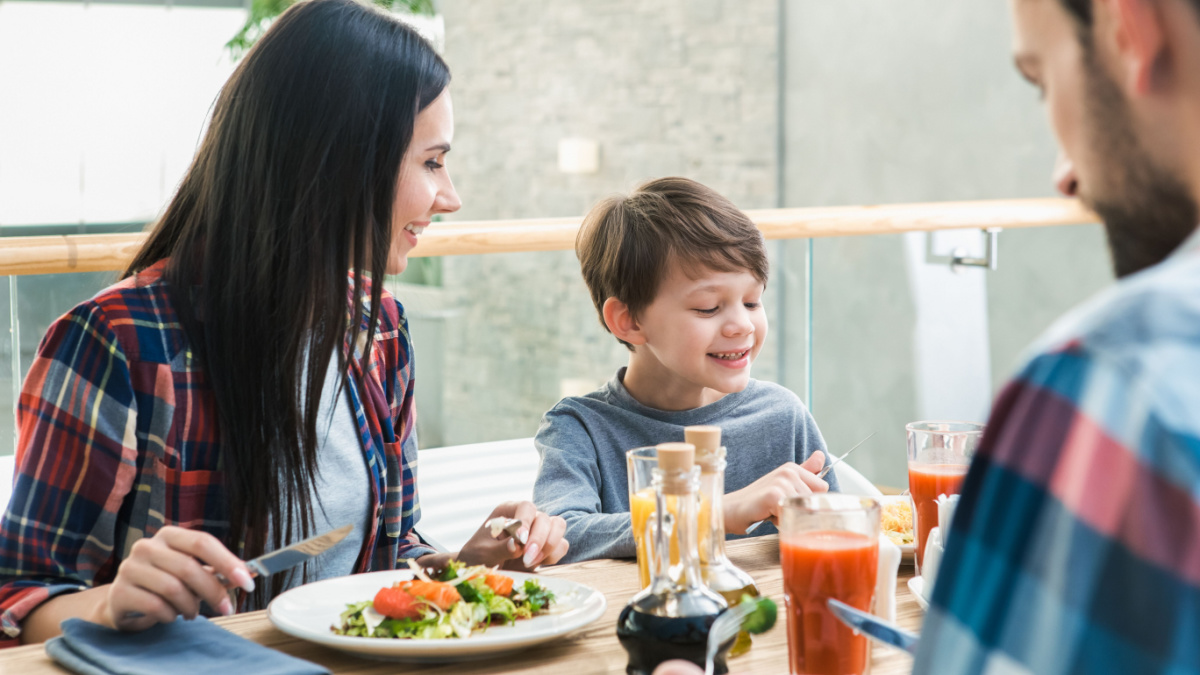 ---
Whether it's a celebration dinner or a quick sandwich lunch, eating out is becoming the norm for many people.
Choosing healthier meals can be challenging when eating out, especially when it comes to children's menus. Whatever type of food you like to eat, we have some pointers to help you make healthy choices the next time you eat out.
Eating out with kids
While most restaurants provide a separate children's menu, the choices on offer are often limited to sausages, burgers or chicken gougons and chips. However, many are happy to serve alternative meals if you ask. Here are our three top tips for ordering healthier meals for your kids.
Check with the restaurant what options they have in their kid's menu, and ask if they serve child portions of the adult menu. If you have more than one child, order an adult portion for sharing and extra plates.
If the restaurant doesn't have a kid's menu, you can combine a starter and some sides to make up a child's meal.
If the kids menu doesn't include vegetables, ask for some vegetables to be added or order vegetable sides to share.
Healthy choices
Go for wholemeal – ask for sandwiches or wraps to be made with wholemeal bread and wraps instead of white.
Don't add salt - most restaurants add more than enough salt during cooking.
Watch the fats -

Go for chicken, turkey or fish dishes over fattier meat dishes.
Cut off any additional fat on meat before eating.
Avoid creamy sauces in favour of tomato- or yogurt-based sauces.
Choose baked or boiled potatoes over chips, and boiled rice over egg-fried rice.
Ask for foods that are steamed, grilled or baked instead of fried.
Avoid battered and deep-fried dishes.
Ask for low-fat or low-calorie versions of mayonnaise-based sides and sandwich fillings like coleslaw.

Get sauce on the side – ask for sauces and dressing on the side and vegetables to be served without butter. Go for low-fat or low-calorie sauces and dressings where you can.
Skip the sugary drinks – drink water or low-fat milk instead of sugary drinks.
Avoid the nibbles - At the beginning of a meal, when you are hungry, it's very easy to fill up on the bread, poppadoms, tortilla chips, etc. Try to avoid these extras.
Ask for more vegetables – ask for extra vegetable toppings or order sides of salads or cooked vegetables.
Finish with fruit – if you're still hungry finish your meal with some fruit.
Managing portions
It can be easy to eat more than you intended when eating out, here are some tips for managing portions:
Keep it small – ask for a starter as your main meal, the portions are usually smaller, add a side of vegetables or salad to make it more filling.
Share a dish – main course portions are often quite big – how about sharing a main course meat dish and ordering extra vegetables? If you eat dessert, why not order one portion with several spoons?
Eat slowly - Enjoy your meal and the company. Give your body time to give you the signal that you are satisfied.
If you are buying premade salads, sandwiches or meals remember to check the label and look for an option that is lower in fat, sugar and salt. Read more about understanding food labels here.
---