Sustainable diets are healthy diets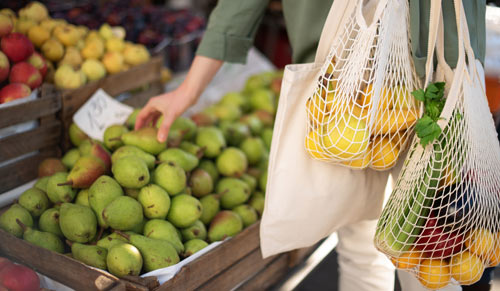 ---
There has been a great shift in recent times in how we think about the sustainability of food choices – but it seems to mean different things to different people. Catherine Conlon, safefood's Director of Human Health and Nutrition, shows how healthy choices make sustainable diets.
One of the great things about working in safefood is that there is always new research or a new angle or viewpoint to keep us on our toes when it comes to thinking about food and what we eat.
There has been a great shift in recent times in how we think about the sustainability of food choices – but it seems to mean different things to different people.
If you look at the Oxford English Dictionary sustainability is 'the use of natural products and energy in a way that does not harm the environment'. But when listening to the media coverage of food sustainability, you would be forgiven for thinking that sustainability is just about eating animal-based or plant-based foods. So how should we think about the environment, food and diets?
What makes a diet sustainable?
Many of us are playing 'catch up' here – the conversation on sustainability of food and diets picked up very quickly and we (individuals and organisations) are left scratching our heads about what we should do.
One useful way to think about sustainable diets is to understand that there are many aspects to consider. International organisations have published guidelines for sustainable healthy diets. These show that sustainable healthy diets need to consider health and sociocultural aspects as well as environmental impacts.
This means we need to think about things like affordability of food, accessibility and jobs as well as land use, water use and waste.
What makes a healthy diet?
While the debate about how best to produce food in a way that is sustainable continues, it is important to remember that there has been agreement on many of the health aspects of diets for some time and some principles will be familiar to us all.
Sustainable healthy diets:
are based on a great variety of unprocessed or minimally processed foods, balanced across food groups, while restricting highly processed food and sugary drinks
include wholegrains, legumes, nuts and a variety of fruits and vegetables
can include small amounts of eggs, dairy, poultry and fish; and small amounts of red meat
include safe and clean drinking water.
This is very much in line with the official healthy eating guidelines, which recommend choosing a variety of fresh foods, about half-filling your plate with veggies, eating meat in moderation and that water is the best drink. Other very sound principles are that sustainable healthy diets:
avoid the use of plastics in food packaging;
reduce food waste
Steps to a healthy sustainable diet
1. Avoid food waste
We can play our part by checking the fridge and freezer before doing a weekly shop, making a list of what we need, making weekly menu plans and trying to cut down on food that is thrown out. Leftover veggies can be used for delicious soups that are full of flavour, filling and so good for you.
2. Cut back on single-use plastic
Many of the supermarkets are cutting back on plastic, so it's possible to cut right back on single use plastic. Coffee shops and cafes all over the country are encouraging us to refill coffee cups and making water available.
3. Follow healthy eating guidelines
Moving to diets that are friendlier to the environment means eating more fruit and veg, eating meat in moderation, cutting back on highly processed food and drink products and reducing food waste – all the while making sure that it's enjoyable.
The debate will continue but these practical steps will bring about the many small changes that will help us move to a more sustainable future.
For more ways on starting your family on the way to a healthier life visit our START hub.
---