The joy of slow cookers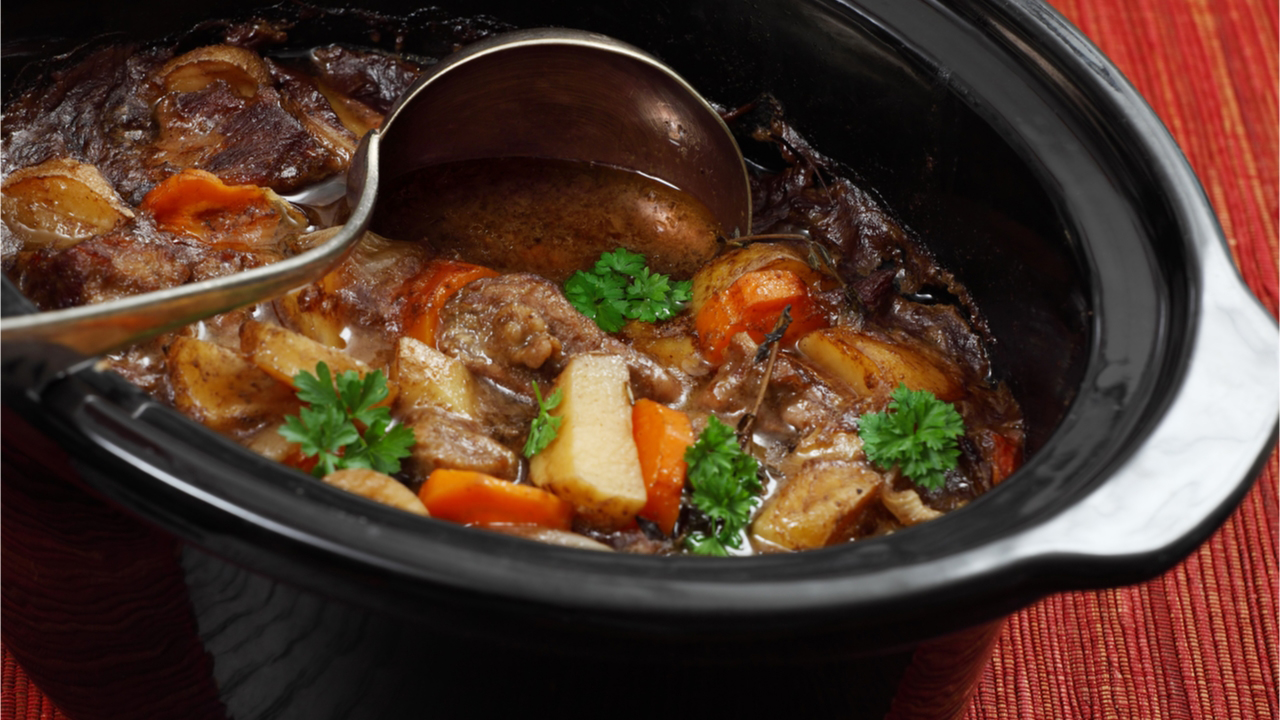 ---
They're inexpensive to buy, most of the major supermarkets stock them from time to time and they can cost as little as €20, they're economical to run, and they're perfect for cooking cheaper cuts of meat. By Corinna Hardgrave, research fellow at safefood.
If you haven't invested in a slow cooker yet, it is well worth considering.
They may have been around since the 70s, but they're enjoying another well-deserved moment in the spotlight as busy people have rediscovered the true joy of this ovenless gadget. It has to be one of the hardest working pieces of kitchen kit around. They're inexpensive to buy, most of the major supermarkets stock them from time to time and they can cost as little as €20, they're economical to run, and they're perfect for cooking cheaper cuts of meat like flank, chuck and blade of beef, lamb shoulder and shanks, pork shoulder, and chicken thighs.
Most slow cookers have at least two temperatures, so if you set it to the lower temperature in the morning (140°C-160°C), there's something magical about discovering a perfectly formed winter dish bubbling away and ready to be eaten six or eight hours later. This is low maintenance cooking as it should be. Slowly does it. No stirring necessary. It toils away all day so you don't have to.
Soups, stews and ragus
Best suited to making soups, stews and dishes like chilli con carne and spaghetti Bolognese, the most important thing to remember is that you shouldn't just chuck a load of raw ingredients in there with a bit of water and expect it to taste like it has been cooked in a cast-iron casserole in the oven. While soups are generally well suited to this method, for meat dishes, it does make a big difference to the flavour if you first brown your meat as you normally would, and although optional in some recipes, browning onions makes a difference too.
And remember, it is important to be aware of food safety issues when preparing and cooking raw meat. Use separate utensils for raw or partially cooked meat, and to prevent the spread of bacteria, make sure to wash your hands thoroughly before and after handling raw meat.
Plan ahead
If you're going out to work, and everything is a mad dash in the morning, it's easy to prepare ahead. You can prep your ingredients and brown any meat if necessary the night before, put everything into the slow cooker dish, cover it and keep it in the fridge overnight. The important thing to remember is that your time will be longer because your dish and food will be fridge cold, so take it out of the fridge when you wake up and leave it for about 30 minutes before turning the slow cooker on. Never place the dish in a pre-heated slow cooker base, whether it has been refrigerated or is at room temperature. If the recipe requires you to heat your dish beforehand, then keep them in the fridge in a different container and add them to the heated dish in the morning.
Top tips for cooking with a slow cooker
Because slow cookers have a tightly sealed lid, there is less evaporation of liquid. If you want to stay on the safe side, it's best to use a recipe that has been developed for a slow cooker, otherwise, you could end up with too much liquid
If you're happy enough to adapt a conventional recipe for a slow cooker, generally, as a rule of thumb, you should reduce the quantity of liquid by a third
Trim off the excess fat from meat and remove the skin from chicken thighs before browning the meat as it is healthier and will avoid the fat pooling on top of the dish
Don't add loads of salt, instead use a little and if necessary, and add a touch at the end if needs more seasoning
Always check the taste of your dish before you serve it. If the flavour needs a bit of spark, a squeeze of lemon juice can work wonders. Adding some fresh chopped herbs (see the video below) at the end can add an extra flavour dimension. Parsley is great in stews and soups, coriander works well in Asian and Middle Eastern dishes and basil adds a Mediterranean touch to tomato based, Italian style dishes.
When you're starting out, it's a good idea to cook a dish you know, so you have an idea how it should turn out. This will give you more confidence to experiment further when you have had a few simple but great successes
Don't keep lifting up to check the food, you'll reduce the temperature and may need to cook the dish for longer. There's nothing to worry about, just let the slow cooker do its magic.
---