Pro BBQ tips from Michelin chef, Eric Matthews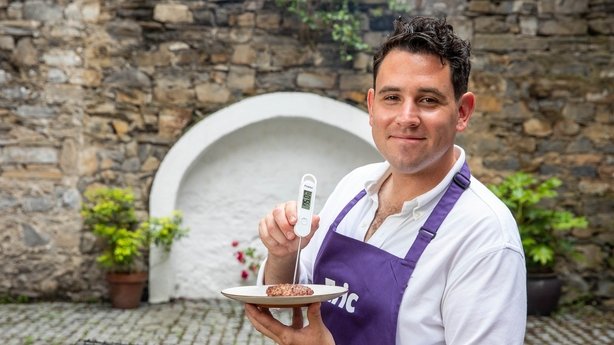 ---
Outdoor dining is where it's at these days, and having a barbecue is one of the safest ways we can enjoy the weather while meeting up with friends and family.
We're delighted that Michelin star chef, Eric Matthews has joined forces with us on our summer Trust the Meat Thermometer campaign. The campaign is encouraging cooks to use a thermometer to make sure that barbecue meats like burgers are cooked to 75°C. That's when any bacteria present in the meat will be made safe and we can avoid any food safety mishaps.
We caught up with Eric to ask if he had any pro tips for the perfect barbeque meal.
With summer here, many people will be hoping to host guests outside. What kind of barbecue is good to start off with?
Whether you use gas or coal barbecues, make sure that meats like burgers, sausages and chicken are cooked properly – that means juices run clear, the meat is piping hot and there's no pink meat.
You can also use a meat thermometer for that extra level of reassurance. When it reads 75°C, those foods are cooked and safe to eat, helping protect your family and friends.
If you're new to cooking on a barbecue and have a lot of people to cook for, you can take the stress off yourself by cooking your food in the oven or under the cooker grill and then finishing it on the barbecue for that lovely flavour. Give yourself time to get ready and for the barbecue to get hot enough to cook on.
What recipes are good for practicing on the barbecue?
Burgers, sausages and chicken are Ireland's barbecue favourites. If you want some inspiration on how to take them to next level, I'll be running a three-part barbecue bootcamp with safefood on my IGTV from the 28th of July – tune in as I'll be releasing three delicious recipes focusing on each of these barbecue favourites.
What are some recipes for vegetarians and vegans that can be cooked on the barbecue?
The best vegan and vegetarian dishes cooked on the barbecue have to be roasting and glazing whole vegetables – think treating a leek like a piece of meat or smoking a whole cauliflower for two hours. When you cook vegetables low and slow on a barbecue the flavour intensifies. Making barbecue glazes for meats can be used on vegetables just the same.
More than half of home cooks (55%) don't know what temperature meat should be cooked to. We're a country that love our meat, how is it we still don't know how to make sure it's cooked properly?
Not everyone remembers the three checks for ensuring meats like burgers, chicken and sausages are cooked safely. And in more recent times, people often prepare or buy burgers and other barbecue meats with lots of coloured spices etc added, this may make it difficult to judge whether the meat is fully cooked. Colour on its own is not a good indicator to judge whether meat is fully cooked. That's why safefood is encouraging people to 'trust the meat thermometer'.
How do you keep meat moist and juicy on a barbecue, while cooking it properly?
The best way to keep meat moist and juicy while cooking on a barbecue is to regulate the temperature. Glazing is basting the meat with its own juices and fats also ensures juicy moist meat.
What are the most common mistakes people make when barbecuing?
About half of us say we lack the confidence to know when meat is properly cooked and almost the same number say they've experienced a barbecue disaster where food was burnt on the outside but raw inside. That's why we're recommending people using a meat thermometer to ensure meat is cooked to 75°C removing any doubt of undercooking meats.
You were the judge for Battle of the Food Trucks, how did you find that? Did you learn anything from the various chefs?
The great thing about being a chef is you are constantly learning new and exciting things from other cooks. It could be something as simple as a new technique or perhaps how to use an ingredient. Being part of the RTÉ battle of the food truck series, I was blown away by the level of cooking from the competitors and I took a lot of inspiration from them all.
---