New funding awarded to Community Food Initiatives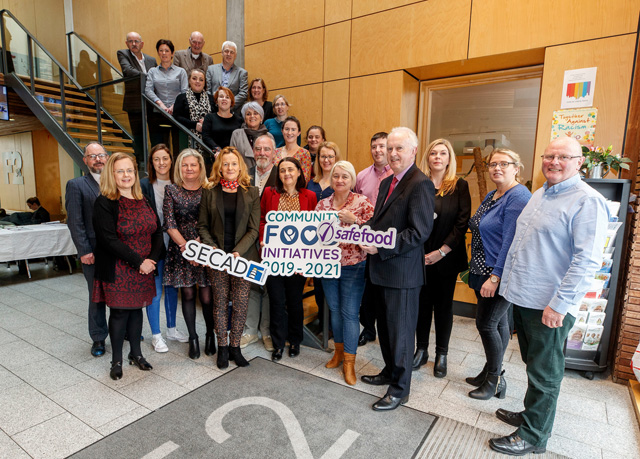 ---
safefood to fund 14 initiatives to improve health through food in communities across the island of Ireland.
safefood to fund 14 initiatives to improve health through food in communities across the island of Ireland.
Friday 22 March, 2019. safefood today announced the recipients of funding for their Community Food Initiatives (CFIs) Programme 2019-21, which aims to positively influence the eating habits of families with children in low-income communities across the island of Ireland. safefood is investing a total of €630,000 over the three years of the initiative to help each of the 14 successful projects set up, manage and sustain their work.
Introducing the projects, Ray Dolan, Chief Executive safefood said:
Our Community Food Initiatives are inspirational examples of how investing in local communities can make a tangible difference to peoples' lives, not only for today but for the future. The community-led approach has the potential to positively influence the food habits of families, which can impact on health, from childhood through to adult life".
At safefood, we have been funding community food projects on the island of Ireland since 2010 and these have helped upwards of 30,000 people during that time. We are proud of the ambition, commitment and passion shown by previous CFIs and those communities about to embark on the new programme. The funding stream announced today will build on that legacy and we look forward to these projects acting as champions in our local communities and beyond."
Two examples of the local initiatives receiving funding include Co Wicklow Community Partnership, which aims to promote healthy eating and wellbeing for communities in Co Wicklow through interactive courses and local events; and the Resurgam Trust, Lisburn, which is working in partnership with local families to increase awareness and access to healthy food by promoting shopping skills, meal planning, budgeting and cooking skills.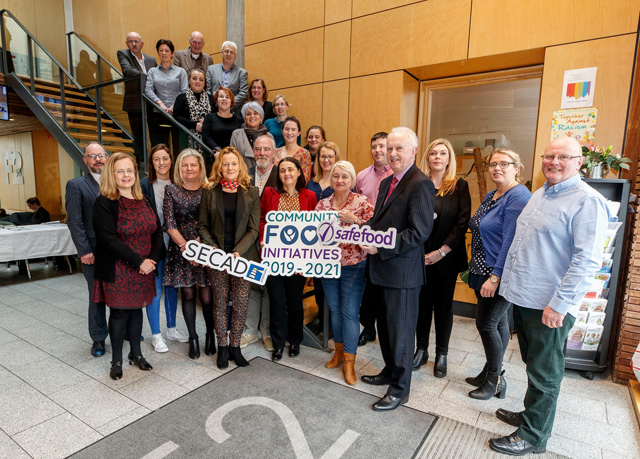 Pictured (front) are Ray Dolan, CEO, safefood, Toni McCaul, Programme & Strategic Relationships Manager, SECAD Partnership CLG and representatives of the Community Food Initiatives Programme 2019-2021. These 14 initiatives will be funded by safefood over the next 3 years to improve health through food in communities across the island of Ireland. Picture Andres Poveda.
The full list of recipients of the Community Food Initiatives (CFIs) funding 2019-21 are:
Bogside & Brandywell Initiative; (Derry)
New Lodge Duncairn Community Health Partnership; (Belfast)
Newry Early Years Children & Family Centre; (Newry)
North Antrim Community Network; (Ballymena)
The Resurgam Trust; (Lisburn)
Ballyhoura Development CLG; (Charleville)
Carlow County Development Partnership; (Bagenalstown)
Co Wicklow Community Partnership; (Arklow)
Dublin North West Area Partnership; (Finglas)
Galway City Partnership; (Galway)
Inishowen Development Partnership; (Inishowen)
IRD Duhallow CLG; (Newmarket, Co Cork)
Offaly Local Development Company; (Tullamore)
South Tipperary Development; (Cahir)
The CFIs are administered at a local level by SECAD Partnership CLG. Speaking at the launch, Ryan Howard, Chief Executive, said "We are delighted that we are once again coordinating the Community Food Initiatives on behalf of safefood and are looking forward to working in partnership with groups in local communities to develop new approaches to raising awareness and developing skills around healthy living and eating.
"Our CFI Leaders are drawn from a range of local development groups who have wide experience of working with families. They will develop programmes that will create opportunities for people to improve their skills in relation to planning, purchasing and preparing better quality meals for themselves and their families in a sustainable, affordable fashion. The approaches and innovations developed will be shared throughout the three years with other communities, service providers and stakeholders to improve awareness of the benefits of incorporating healthy eating programmes into their own work plans."
Since first launched in 2010, 30 communities across the island of Ireland have received funding under successive CFIs. A key feature of the programme is that learnings and experiences from previous programmes are shared among the new initiatives. New initiatives are also encouraged and supported to enhance the long-term sustainability of their work from the outset.
#CommunityFood
- Ends -
For further information or to request an interview, please contact
Dermot Moriarty / Julie Carroll
safefood
Tel: 01 448 0600
Mob: 353 86 381 1034 (Dermot) / 353 86 601 6005 (Julie)
Email: [email protected]
or
Sinead Conroy
SECAD Partnership CLG
Tel: 021 461 3432
Email: [email protected]
About safefood
safefood is the all-island body set up under the British-Irish Agreement with a general remit to promote awareness and knowledge of food safety and nutrition issues on the island of Ireland.
About SECAD Partnership CLG
SECAD Partnership CLG is a local development company which provides a range of innovative and effective rural development and social inclusion supports to motivate and empower local communities to create a more vibrant, sustainable and inclusive society.
---