safefood extends partnership with Irish FA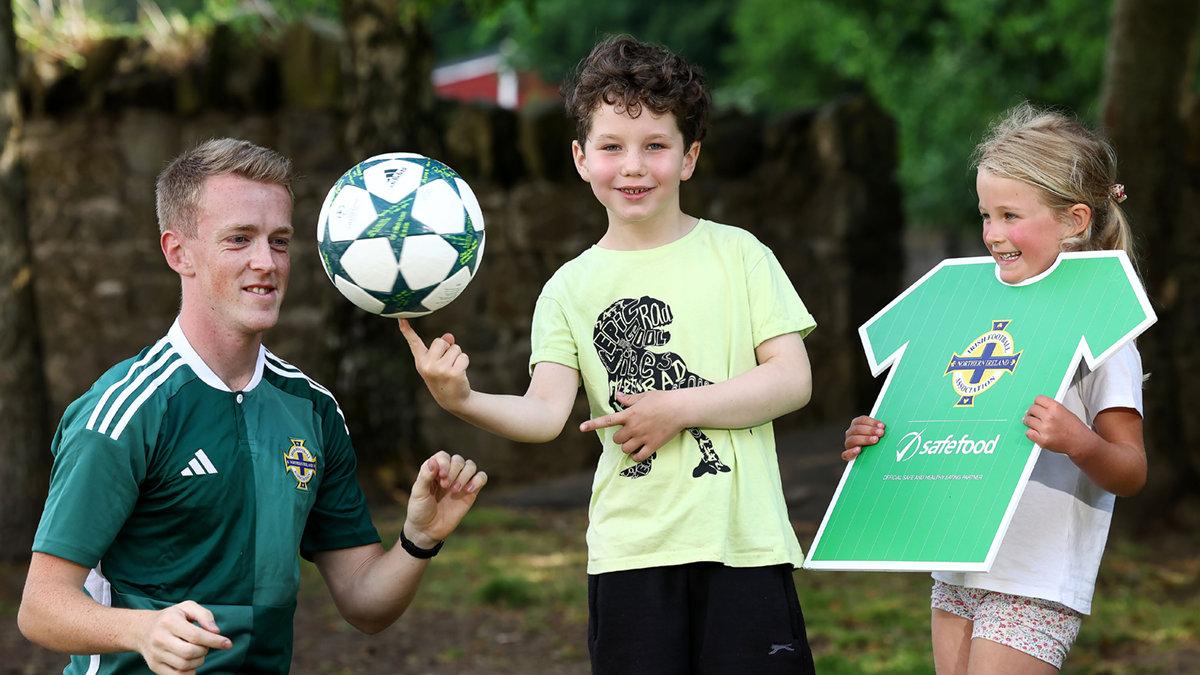 ---
Irish FA and safefood to provide more healthy know-how 
19 June 2023: safefood has extended its partnership with the Irish Football Association with the aim of encouraging more kids to make healthy food choices and be active.
Through the partnership, safefood which is the association's official healthy and safe eating partner and patron of the Irish FA's Education and Heritage Centre, is set to reach out to more than 5000 primary school children, parents, guardians and teachers over the next 12 months.
It will highlight the importance of healthy and safe eating through its football based 'On the Ball – Healthy Know How for Active Kids' programme of activities and events.
The programme is delivered in schools by safefood representatives and Irish FA Foundation coaches.
Fiona Gilligan, Director of Communications with safefood, said: "We're really proud of this continued partnership with the Irish FA. The programme allows kids to see sport and health as being inseparable and is a brilliant way to establish healthy behaviours at a young age - for life. Last year we ran the programme with nearly 4000 kids and this year we're hoping to build on that, bringing the numbers up to 5000 kids with an additional 1200 parents bringing the messages home."
Claire Rea from the Foundation said the association was delighted to team up with safefood again for the innovative programme. "Through the Healthy Know How for Active Kids sessions we will cover topics such as healthy food choices, hydration, sleep and screen time," she explained. Irish FA Foundation coaches will work with dozens of primary schools and thousands of children, encouraging kids to be healthy and physically active.
Teacher Jonny Nicholl said: "The programme was able to help our pupils understand the importance of staying hydrated and the benefits of eating more fruit, vegetables and healthy snacks, and swapping sugary drinks for water or milk. It also highlighted other factors in helping to maintain a healthy lifestyle such as how many hours of sleep children should be getting for growth and development and alternatives to screen time, which is becoming more and more of an issue these days."
To celebrate the extension of the partnership, safefood and the Irish FA are giving one lucky class the chance to win a tour of the National Football Stadium at Windsor Park and Education and Heritage Centre plus a freestyle football session with pro freestyle footballer Sam Madden and a signed Northern Ireland jersey.
There will be runners-up prizes available.
The competition is now open to all schools across Northern Ireland. Only entries from teachers on behalf of their class will be accepted, applications close on Friday 23 June. The winners will be announced w/b 26 June, with the prize provided in September.
To enter kids simply have to explain why it's important for them and their classmates to make healthy food choices.
The entry form is available at Irish FA and safefood to provide more healthy know-how
---