Almost half of NI BBQ-goers served undercooked meat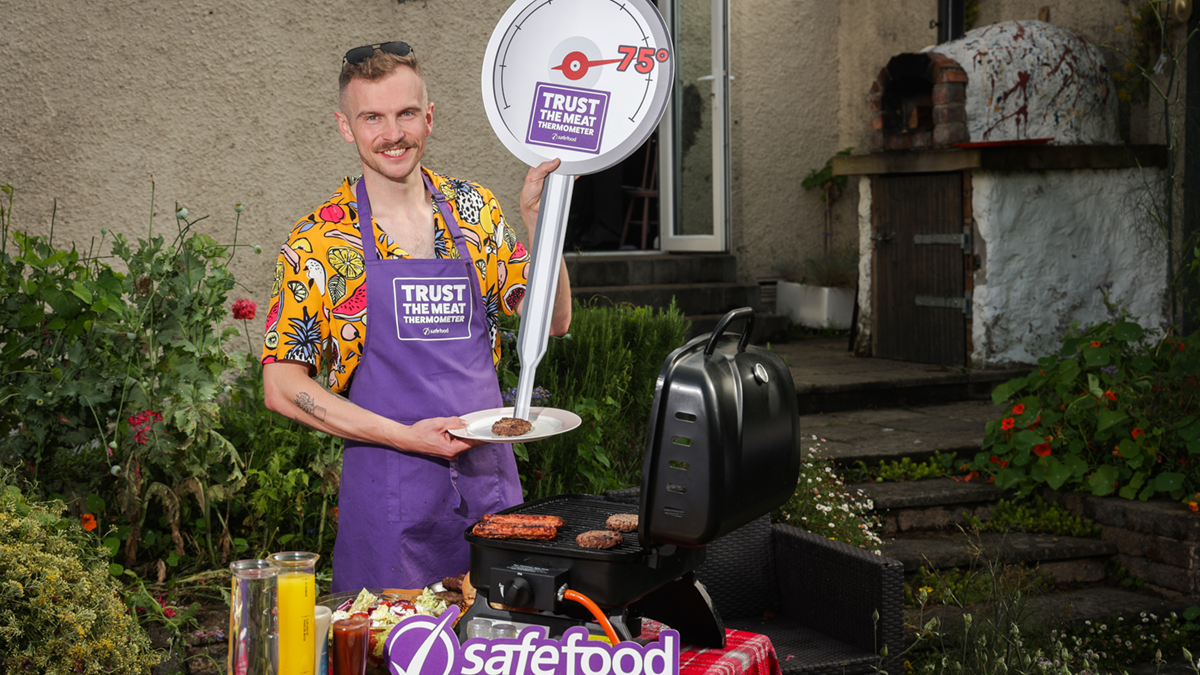 ---
Almost half of Northern Ireland barbecue-goers served raw or undercooked meat at a summer barbecue
Over two-thirds of home barbecue chefs don't know the correct temperature to ensure barbecue meat is cooked and safe-to-eat
Monday 10th July 2023: Almost half (45%) of Northern Ireland barbecue-goers have been served raw or undercooked barbecue meat like burgers, chicken, and sausages and left it untouched due to the risk of food poisoning, according to a new study by safefood.
safefoodconducted the survey of 300 adults across Northern Ireland to shed light on the region's barbecue cooking habits as local shoppers welcomed this year's barbecue season by spending an extra £2m on barbecue meats, despite grocery inflation rising to 16.1%.
The research also discovered that two-thirds of home barbecue chefs were unaware of the correct temperature required to ensure barbecue meats were cooked and safe-to-eat.
Worryingly, it also found that 5% of home barbecue chefs purely relied on taste to check if barbecue meat is cooked.
Almost a third (30%) of people say they use a meat thermometer to measure the internal temperature of cooked barbecue meats like burgers, chicken, and sausages so they can determine whether it's safe to eat before serving to guests.
In response to the increased spend on barbecue meats and to minimise risk of food poisoning and food waste from raw or undercooked barbecue meats, safefood is urging local home barbecue chefs to prioritise food safety this summer.
The all-island body is urging people to use a meat thermometer and take the guess work out of cooking barbecue meats by checking burgers, chicken, kebabs, and sausages are cooked to 75 degrees Celsius.
Dr Gary Kearney, Interim CEO at safefood, "With almost half of Northern Ireland's barbecue-goers having been offered raw or undercooked meat, it is crucial that home barbecue chefs across Northern Ireland eliminate any guesswork and avert any potential barbecue food poisoning mishaps this summer."
"It's evident that barbecuing is immensely popular here during the Summer, so it's important that we all prioritise good food safety practices when grilling barbecue meats.
"For meats like burgers, sausages, chicken, and kebabs, using a meat thermometer adds that extra layer of reassurance. Take the meat off the heat, pop the meat thermometer into the thickest part of the meat and when it reaches 75 degrees Celsius, it's cooked and ready to eat.
"If you don't own a meat thermometer, it is important that they are cooked until piping hot, with no pink meat and the juices running clear'.
Local Chef Alex Huston, a recent contestant on BBC's Farm To Feast, says: "Using a meat thermometer really is a game-changer. It takes the guesswork out of grilling your favourite meats and ensures it's cooked to perfection, both in terms of taste and safety.
"Trust me, investing in a meat thermometer is an easy and inexpensive way to make a big difference to your barbecuing experience."
For more information visit www.safefood.net/news or follow safefood on Facebook, Twitter & Instagram.
safefood's top tips for a safe barbecue
Keep perishable foods like salads, coleslaw, and quiche in your fridge until you are ready to serve them.
Burgers, sausages and kebabs, pork and poultry must be cooked all the way through – take your food off the heat, pop the thermometer in the thickest part of the meat and when it reaches 75 degrees Celsius, then it's cooked and ready to eat. Steaks can be served as 'rare' as harmful bacteria are on the outside only (and not in the centre).
If you don't have a meat thermometer, follow the three checks of ensuring barbecue meats like burgers, sausages and chicken are cooked until piping hot, with no pink meat and the juices running clear.
If you like to marinate your meat, make sure any marinade used on raw meat is not then used as a sauce to coat vegetables or cooked meat as it will contain raw meat bacteria.
If you choose to barbecue any frozen food, it must be completely thawed first on the bottom shelf of your fridge before you cook it.
When handling raw meat and poultry, wash your hands thoroughly and frequently, most importantly before going on to prepare salads and other ready-to-eat foods.
Once your meat is cooked thoroughly, make sure to keep cooked meat separate from raw meat and use separate chopping boards, cooking utensils and plates. Harmful bacteria in raw meat, poultry and their juices can cross-contaminate cooked food and lead to food poisoning, something your family won't thank you for.
If there are leftovers from your barbecue, allow the food to cool before refrigerating, however, make sure to refrigerate food within two hours of cooking. Always remember with leftovers, use within three days and if in doubt, throw it out.
Ends
---