The Food Pyramid for Older People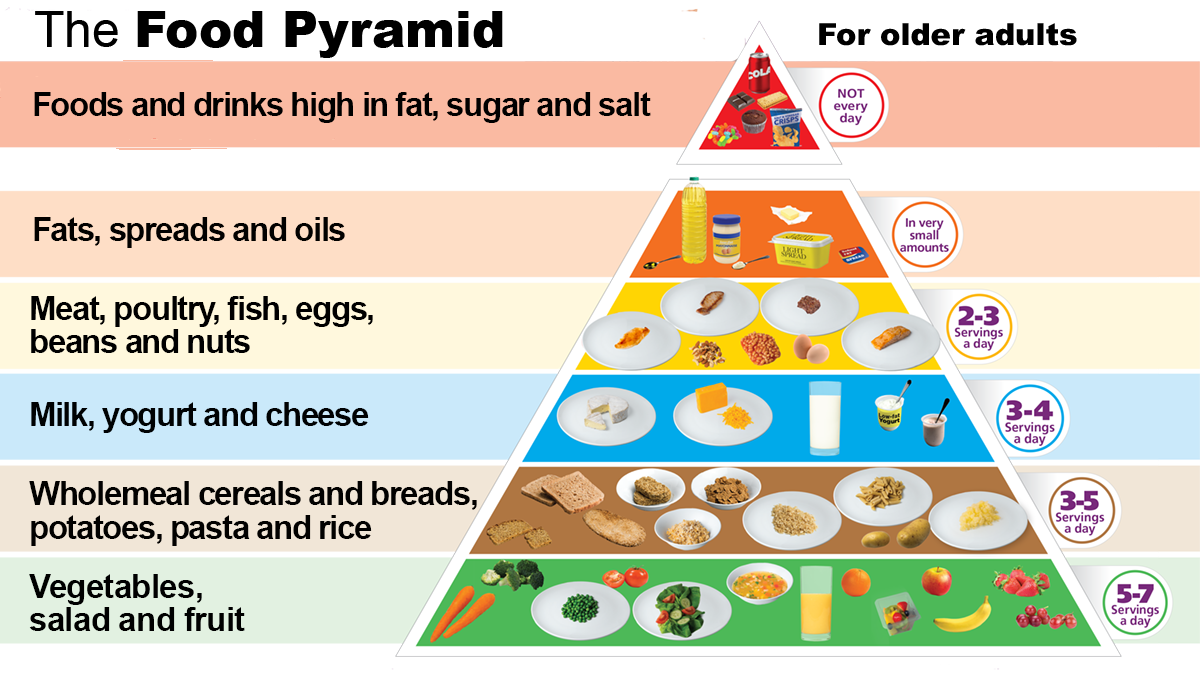 ---
Older adults have different nutrition needs. Nourishing your body with healthy food and staying active every day will help you to stay well.
In Ireland, the Food Pyramid shows different food groups and how much of each we need to eat to have a healthy, balanced diet. The pyramid organises food into five main shelves - a shelf for each food group.
What's on each shelf of the pyramid?
Top tips
There are eight top tips to help keep you nourished and strong.
Eat well – a healthy diet will keep your muscles and bones strong, helping to prevent falls.
Eat enough high-quality protein in at least two meals a day – eat foods from the meat (and alternatives) and milk shelf (and alternatives).
Boost your B vitamins - Eat plenty of fruit and vegetables, high-quality protein foods cereals and milk with added B vitamins.
Choose high fibre foods - Eat wholemeal breads and cereals, plenty of vegetables, fruit and salad every day.
Maintain your best weight – this is a weight you can maintain while living a happy and healthy life.
Daily vitamin D - You need to take a 15 microgram (μg) vitamin D supplement every day of the year.
Portion size matters – use the serving sizes in the Food Pyramid as a guide.
Be active every day – aim for 10-15 minutes several times a day. Download: How to stay active and flexible.
Daily meal plans
---