Trust the meat thermometer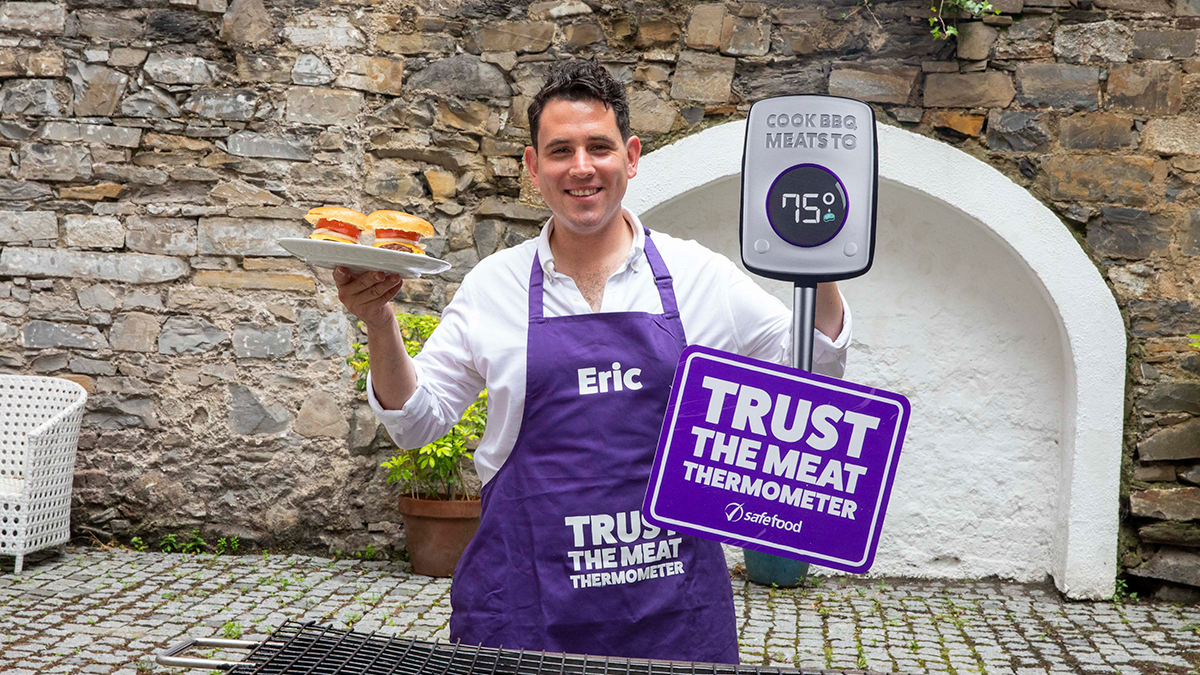 ---
More than half of home cooks (55%) don't know what temperature meat should be cooked to. New safefood campaign says "Trust the Meat Thermometer".
13 July 2021: With summer in full swing and barbeques being a popular way to socialise with family and friends, safefood is encouraging people to 'trust the meat thermometer' to make sure they cook their BBQ meats like burgers to 75 degrees C and protect themselves from any food safety mishaps which can lead to people getting sick.
New research¹ from safefood has found that more than half of home cooks (55%) don't know what temperature meat should be cooked to. Less than 2% followed the three established checks for ensuring meat was safely cooked – piping hot, no pink meat and juices running clear. For those barbeque meats like burgers, sausages and chicken, placing a meat thermometer in the thickest part of the meat adds that extra layer of safety and confidence to help home cooks get it right every time.
Dr Gary Kearney, Director, Food Science, safefood said:
"For many of us, a barbeque is one of those social activities that we can currently enjoy; all we need is our favourite BBQ foods, salads, and a barbeque to cook them on. But if there's one item to bring to your barbeque this summer, it's a trusty meat thermometer. Take your food off the heat, pop the thermometer in the thickest part of the meat and when it reaches 75 degrees Celsius, then it's cooked and ready to eat. For meats like burgers, sausages, chicken, and kebabs, it is important that they are cooked until piping hot, with no pink meat and the juices running clear. Using a meat thermometer adds that extra layer of reassurance. If you're cooking steaks, these can be cooked to preference."
""Our research revealed that fewer than one in five people own a meat thermometer and only one in six use it", continued researcher Dr Lynsey Hollywood, Ulster University. "People also perceive the home to be the least likely source of food poisoning, when in fact up to two thirds of foodborne illness cases may originate there. One finding from the research was a perception that meat thermometers are expensive. However, you can pick them up for as little as €8-10 and they are widely available in home-retail and hardware outlets"
Supporting the campaign Michelin star chef Eric Matthews and judge in RTE's Battle of the Food Trucks said,
"I'm delighted to be supporting the safefood 'Trust the Meat Thermometer' campaign. So much work goes into preparing for a BBQ with family and friends, so the last thing anyone wants is to undercook the food that is being served and risk making people sick. Using a meat thermometer takes all the guess work out of it and means that you can get on with enjoying yourself. And it couldn't be any easier, you just pierce the meat with the thermometer at the thickest part and when it reaches 75 degrees C you know you're good to go! I'll be running the safefood 'Trust the Meat Thermometer' boot camp on my IGTV starting on the 26th July so you can follow me in cooking some delicious BBQ dishes, using a meat thermometer to ensure everything is tasty and cooked safely – make sure to tune in!"
The safefood campaign is also being supported by the Association of Craft Butchers of Ireland who will be displaying 'Trust the Meat Thermometer' stickers in their meat counters during July.
For more information, visit www.safefood.net/meat-thermometer and follow safefood on Facebook, Twitter & Instagram
Wilson Hartnell PR
Amy Pilgrim
Mob: +353 87 261 3300
Email: Amy.pilgrim@ogilvy.com
safefood
Ciara O'Connor (m) 87 437 2080
Dermot Moriarty (m) 086 381 1034
Email: press@safefood.net
Ends
Want tasty and safely cooked BBQ meats every time?
---
Editor's Notes:
safefood's 7 top tips for a safe barbeque
Keep perishable foods like salads, coleslaw and quiche in your fridge until you are about to serve them.
Burgers, sausages and kebabs, pork and poultry must be cooked all the way through - but steaks can be served 'rare' as harmful bacteria are on the outside only (and not in the centre).
If you like to marinate your meat, make sure any marinade used on raw meat is not then used as a sauce to coat vegetables or cooked meat as it will contain raw meat bacteria.
If you choose to barbeque any frozen food, it must be firstly completely thawed on the bottom shelf of your fridge before you cook it.
When handling raw meat and poultry, wash your hands thoroughly and frequently, most importantly before going on to prepare salads and other ready to eat foods.
Once your meat is cooked thoroughly, make sure to keep cooked meat separate from raw meat and to use separate chopping boards, cooking utensils and plates. Harmful bacteria in raw meat, poultry and their juices can cross contaminate cooked food and lead to food poisoning, something your family won't thank you for.
If there are leftovers from your barbeque, allow the food to cool before refrigerating, however make sure to refrigerate food within two hours of cooking. Always remember that with leftovers - if in doubt, throw it out.
References:
¹ "Assessment of the use of meat thermometers by consumers on the island of Ireland"; (safefood; Ulster University; & St. Angela's College; 2021). The study comprised a literature review of meat thermometer ownership and usage; six focus groups with 65 participants and a survey of 1,052 adults on the island of Ireland.
---