1 in 4 cooks nervous about Christmas dinner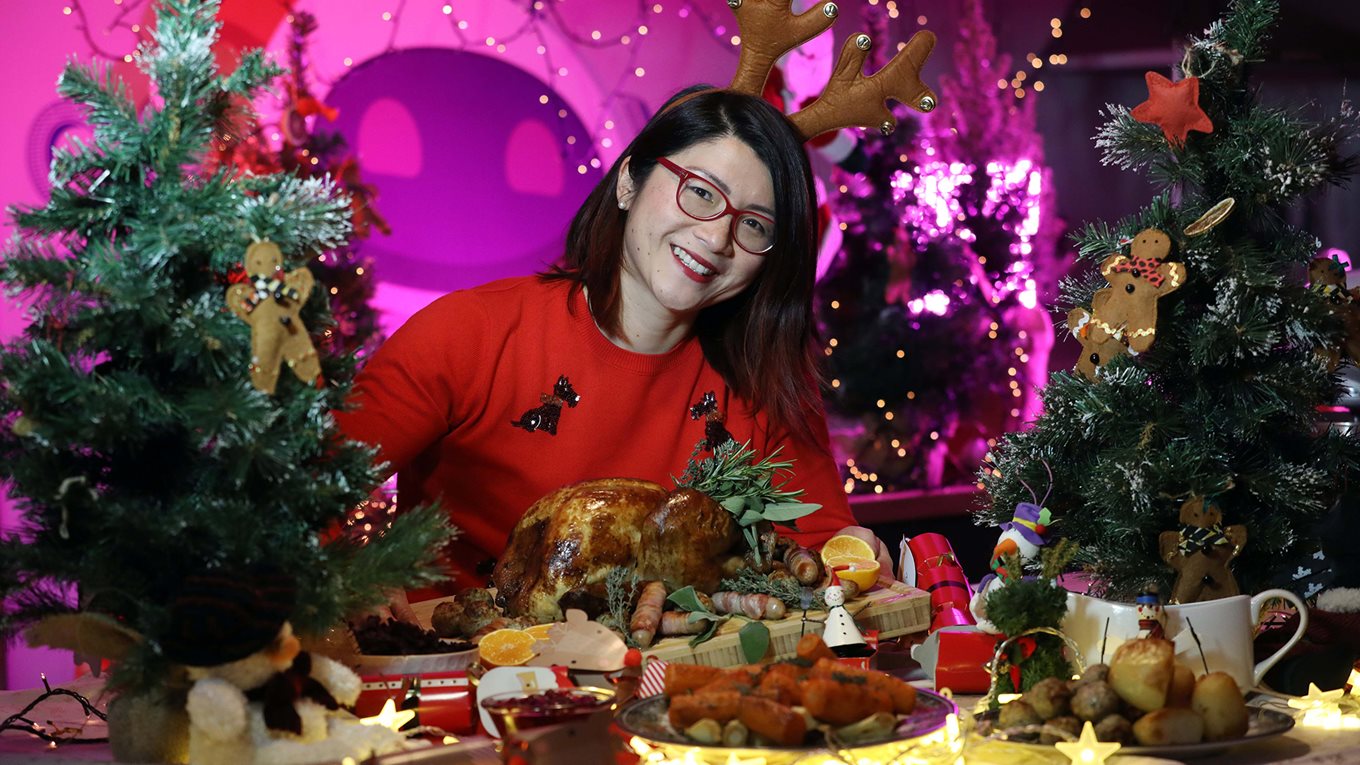 ---
safefood teams up with home cook hero Suzie Lee to launch Christmas food safety campaign to help take the stress out of festive cooking
Thursday 3rd December 2020: Christmas dinner is arguably the most important meal of the year and a quarter of Northern Ireland home cooks have admitted they are nervous about cooking this year's festive feast, according to new research by safefood.
The poll of over 300 adults across Northern Ireland has also revealed that in one in six people (17%) aged between 18-34 years old will be cooking their first ever Christmas dinner this year.
Over half of people (59%) will also be hosting Christmas dinner for a smaller number of family and friends this year, with 15% planning on delivering Christmas dinner to loved ones.
The research was commissioned by safefood as they team up with local home cook hero Suzie Lee to launch their Christmas food safety campaign to take the stress out of the daunting task of festive cooking and ensure that everyone has a safe and tasty Christmas.
Dr Linda Gordon, Chief Specialist, Food Science, safefood commented: "With so many people cooking Christmas dinner for the first time this year, we really want to help build confidence ahead of what might seem like a big task. The key is to give yourself plenty of time – whether that's how long to defrost a frozen turkey, how long to cook it for or how long to keep leftovers. Whatever cooking method, timings or recipes you use; you know your turkey is properly cooked when there's no pink meat in the thickest part of the breast and thigh, the juices run clear and the meat is piping hot throughout."
"At safefood, we're here to take the stress out of Christmas for home cooks and our website www.safefood.net/christmas has everything you need; food safety tips, a cooking time calculator for your turkey and tasty leftover recipes so you can make the most of Christmas. The month of December is the busiest month of the year on our website and last year, more than 110,000 people visited our site between Christmas Eve and Christmas Day to find great Christmas cooking advice."
Supporting safefood's Christmas food safety campaign, Northern Ireland's home cook hero, Suzi Lee said: "Turkey, roast potatoes, stuffing and mountains of vegetables, who doesn't love sitting down with family to enjoy an amazing Christmas dinner? To many though, the thought of having to cook this festive feast can be a very daunting and stressful task, especially when doing it for the first time. That's why I'm delighted to team up with safefood to try and help take the pressure off our local Christmas cooks with expert advice on how to create the perfect Christmas dinner and still enjoy the festive celebrations.
"The key to a successful Christmas dinner is often down to the preparation. Plan everything out beforehand and stick to that plan. Make your stuffing the day before and peel potatoes, carrots, and any other vegetables you are having and leave them in pans of cold water over night. Whatever size turkey you're having this year, everyone will be aiming for it to be tender and juicy, so use safefood's handy turkey cooking time calculator at www.safefood.net/christmas to work out how long it will take to cook."
With smaller groups of people coming together on Christmas Day this year, the safefood research found that almost half of festive cooks (47%) are planning to cook a turkey crown this year, with 8% planning on serving a boned and rolled turkey.
A third (33%) of people are planning to buy their food for Christmas day earlier than normal and freezing it this year, with over one-quarter (27%) planning on using ready-prepared foods on Christmas day.
The research also found 15% of people keep their turkey for longer than this, some up to four days or more which can increase the risk of food poisoning. safefood wants to remind Christmas cooks that any leftovers should be cooled and stored in the fridge within two hours of cooking and eaten within three days.
Suzie Lee's Top Tips for Cooking the Perfect Christmas Dinner
Get your fridge ready - Ahead of the festive rush give your fridge a good clean with warm soapy water and re-arrange the shelves to make space for your turkey
How much turkey do you need? Don't buy too big a turkey. Think about how many people you're cooking for (children eat less than adults) and whether you want any leftovers
Give yourself enough time to defrost – If your turkey is frozen, ensure you leave enough time to defrost it prior to cooking. Allow 24 hours for every 4-5 pounds/1.8-2.2kg. Defrost your turkey on dish or tray on the bottom shelf of the fridge.
Don't wash that bird - Do not wash your turkey as this splashes food poisoning bacteria around your kitchen through drips, drops and splashes - proper cooking will actually kill any germs present.
How long to cook your turkey? Raw poultry and meat can contain germs like Salmonella and Campylobacter, so it's important to cook these foods thoroughly. Use safefood's turkey cooking time calculator at www.safefood.net/christmas to work out how long your turkey will take to cook.
Preheat your Oven and get the turkey ready - Preheat your oven to 180° (Fan Assisted). Slice into the thigh and drumsticks – this ensures the turkey is cooked evenly.
What about stuffing? For stuffed turkeys cooked in a fan oven, you should allow extra cooking time and it is essential you check the stuffing itself is piping hot all the way through. Use safefood's turkey cooking time calculator at www.safefood.net/christmas. For any other oven types, cook stuffing separately in a suitable dish.
How to check your turkey is cooked – Use a meat thermometer to check your turkey is fully cooked. If you don't have a meat thermometer, use a clean fork or skewer, pierce the thickest part of the breast and thigh. You know your turkey is properly cooked when there's no pink meat in the thickest part of the breast and thigh, the juices run clear and the meat is piping hot throughout.
How to store leftovers - Cover any leftovers and place in the fridge within two hours of cooking. Once in the fridge, any leftovers should be eaten within three days.
Freezing meats - If freezing leftover meat or poultry, wrap well and make sure it is stored in a suitable container for freezing. Freeze cooked meat for no more than 6 months approx. – this is for quality rather than safety
Only re-heat food once! When re-heating food, ensure it is piping hot all the way throughout. Make sure food is only re-heated once!
-ENDS-
For further information or to request an interview, please contact:
Russell Lever/Vicki Caddy
ASG PR
Tel: 028 9080 2000
Mob: 078 4167 6976 (Russell Lever) / 078 1438 0487 (Vicki Caddy)
Email: [email protected] / [email protected]
Or
Dermot Moriarty/Ciara O'Connor safefood
Tel: 00353 1 448 0600
Mob: +353 87 437 2080 (Ciara)
Mob: 00353 86 381 1034 (Dermot)
[email protected]
About the Research
The research quoted in this campaign was conducted by Empathy Research. The Research was conducted through an online survey across a nationally representative sample of n=303 adults aged 18+. Quotas were placed on gender, age, social class and region with weighting applied to ensure final data was representative of these quotas. Research was conducted amongst members of Empathy Research's proprietary research panel. The Fieldwork was conducted from 20th – 24th November 2020 with a sample size of n=303, which results in a margin of error of +/- 4.9%.
---