Nutritional standards for healthcare settings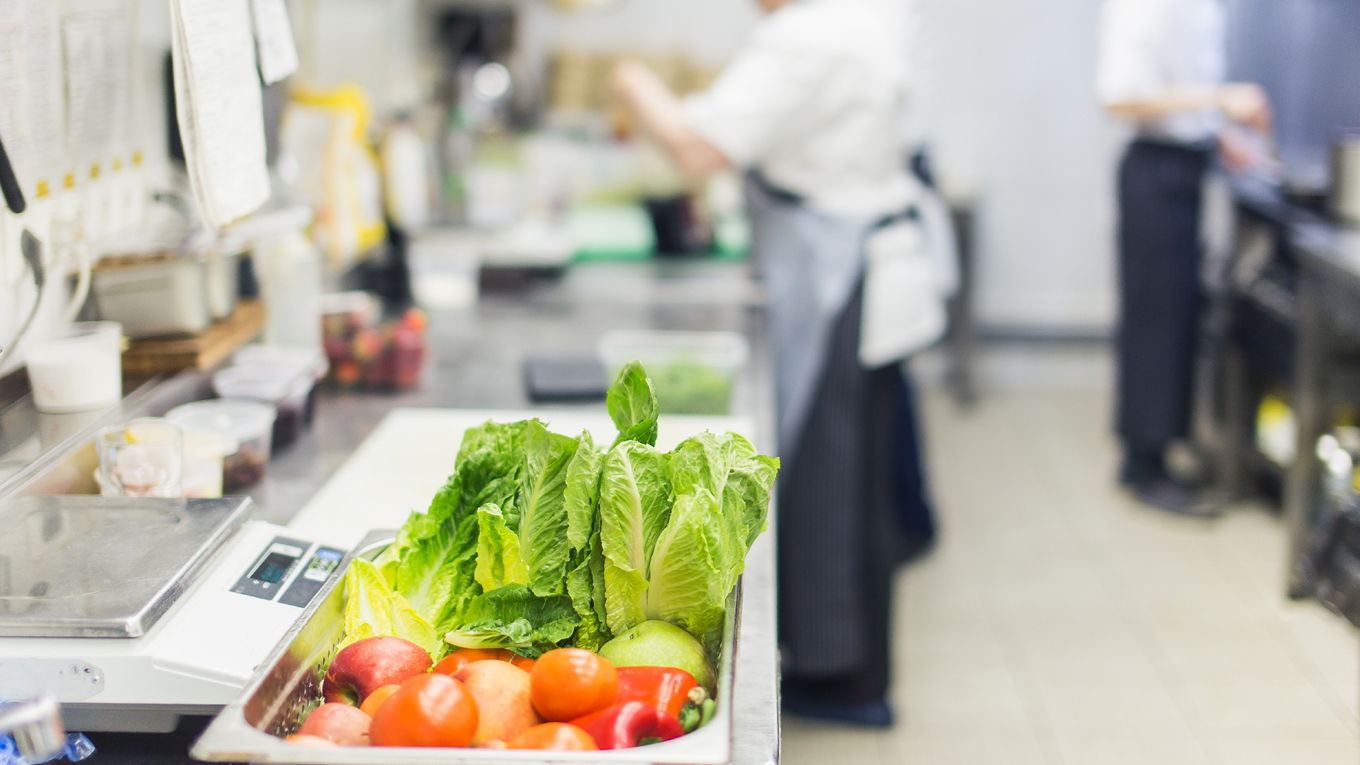 ---
The Health Minister, Robin Swann, announces updated Nutritional Standards for food served to staff and visitors in Northern Ireland across Health and Social Care settings.
3 March 2022: Updated Nutritional Standards have been announced today, designed to make the food on offer for staff and visitors in hospital cafés and restaurants, vending and retail outlets healthier.
The Public Health Agency (PHA), Food Standards Agency (FSA), safefood and Health and Social Care (HSC) colleagues have jointly developed and reviewed these Nutritional Standards, so that healthier food choices are available for staff and visitors in Health and Social Care settings. The overall aim of the Nutritional Standards is to help address overweight and obesity and improve staff and visitor health and wellbeing. These are food-based standards, modelled on the Eatwell Guide.
These Nutritional Standards were first introduced in 2017 and there has been ongoing work and support to implement them over the past five years.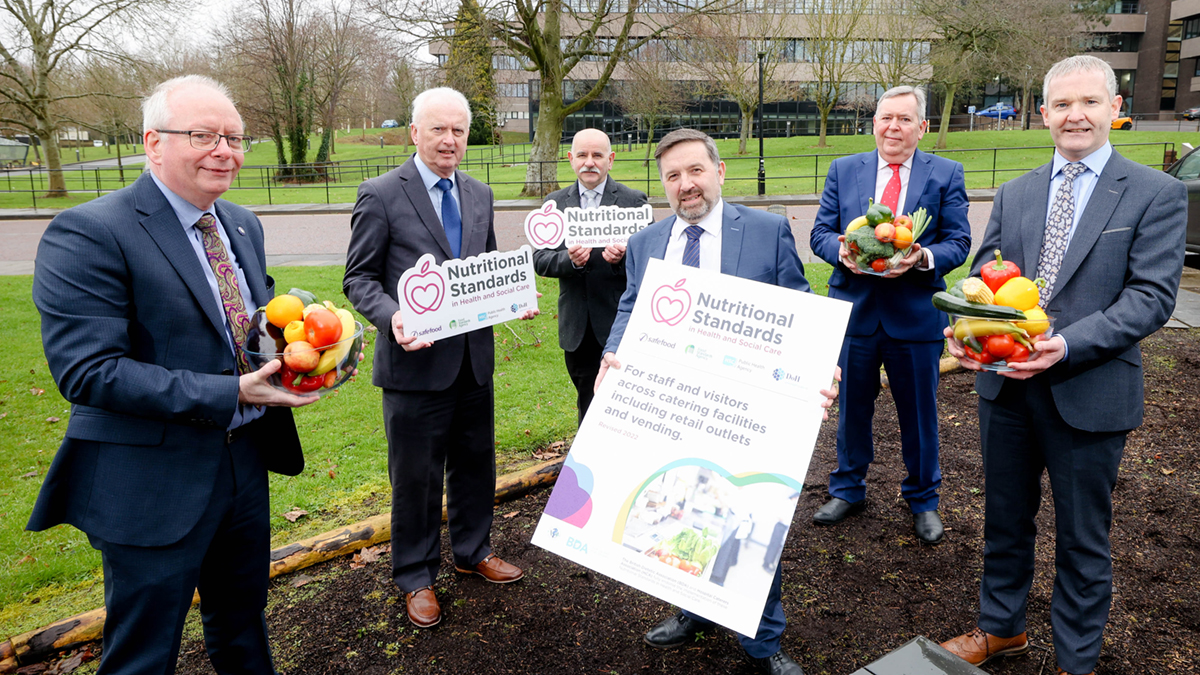 Pictured with The Health Minister, Robin Swann is: Aidan Dawson, Chief Executive of the Public Health Agency (PHA); Ray Dolan, Chief Executive Officer at safefood; Dr Eddie Rooney, Chair of the safefood Advisory Board; Colm McKenna, Board Member of the Food Standards Agency (FSA) and Chair of the Northern Ireland Food Advisory Committee; and Andy Cole, Deputy Director for Northern Ireland at the Food Standards Agency (FSA).
---
The Standards have been updated by an expert panel, taking into account the latest evidence and guidance. This has led to, for example, increasing fruit and vegetables and wholegrains while decreasing the amount of saturated fat, salt and processed meats. In addition to specific guidance for each food group, these now also address the topics of vending and the food environment. The vending guidelines include recommendations for snacks and confectionery items and ensure all beverages on offer are sugar-free. The food environment standards include recommendations for fresh tap water to be freely available; no salt or sugar to be displayed at tables; and for all confectionary to be removed from the till area.
Launching the Nutritional Standards Minister Swann said,
"Implementation of the Nutritional Standards across healthcare settings is a key outcome in my Department's 'A Fitter Future for All' obesity prevention strategic framework, and supports delivery of a number of outcomes and priority areas. Implementation of these Standards creates a new opportunity for staff, teams and organisations to make positive changes for the wellbeing of staff and visitors.

Evidence shows that a healthy balanced diet, combined with physical activity, can help maintain a healthy weight, and lower the risk of diseases including heart disease, type 2 diabetes and some cancers. Facilities such as restaurants, coffee shops, vending machines, workplace canteens and retail outlets like hospital shops can impact on the quality of the food we eat, and how much we eat, through the food choices they offer. I am therefore delighted to support and endorse these new Standards as an important step in improving the health and wellbeing of our population. In fact, given the Health Service employs around 72,500 people, many of them consuming the food on offer at their place of work for meals and snacks, these Standards will have a particularly a positive impact on the health and wellbeing of our colleagues right across Northern Ireland."
ENDS
Notes to editors:
The Obesity Prevention Strategy, "A Fitter Future for All", is committed to ensuring that nutritional standards are in place for staff and visitors in Health and Social Care settings including guidance on procurement and provision. The Public Health Agency (PHA), the Food Standards Agency (FSA), safefood and HSC colleagues have been tasked with delivering this outcome.
In order to achieve this, the three organisations, through the Regional Obesity Prevention Implementation Group and a targeted consultation, have jointly developed and updated these Nutritional Standards for implementation in Health and Social Care, as well as private retail and vending machines based on HSC sites.
The Eatwell Guide shows the proportions of the main food groups that form a healthy, balanced diet, focusing on the following:
Eat at least five portions of a variety of fruit and vegetables every day
Base meals on potatoes, bread, rice, pasta or other starchy carbohydrates; choosing wholegrain versions where possible
Have some dairy or dairy alternatives (such as soya drinks), choosing lower fat and lower sugar options
Eat some beans, pulses, fish, eggs, meat and other proteins (including two portions of fish every week, one of which should be oily)
Choose unsaturated oils and spreads and eat in small amounts
Drink 6-8 cups/glasses of fluid a day. Water, lower-fat milks and lower-sugar or sugar-free drinks, including tea and coffee, all count.
If consuming foods and drinks high in fat, salt or sugar have these less often and in small amounts
In addition to these messages consumers are reminded to eat less salt (no more than 6g a day for adults), to get active and be a healthy weight. It is also very important not to skip breakfast. The Eatwell Guide also provides information on calorie guidelines for adults and front-of-pack nutrition labelling.
The standards do not apply to patient food and beverage provision where therapeutic intervention is required.
The Nutritional Standards in Health and Social Care are published here: www.safefood.net/research-reports/nutritional-standards-hsc
For more information and media enquiries please contact:
Russell Lever
ASG & Partners
Mob: 077 8828 8901
Email: [email protected]
Or
Dermot Moriarty
safefood
Mob: 00353 86 381 1034
Email: [email protected]
---