Healthy barbecue guide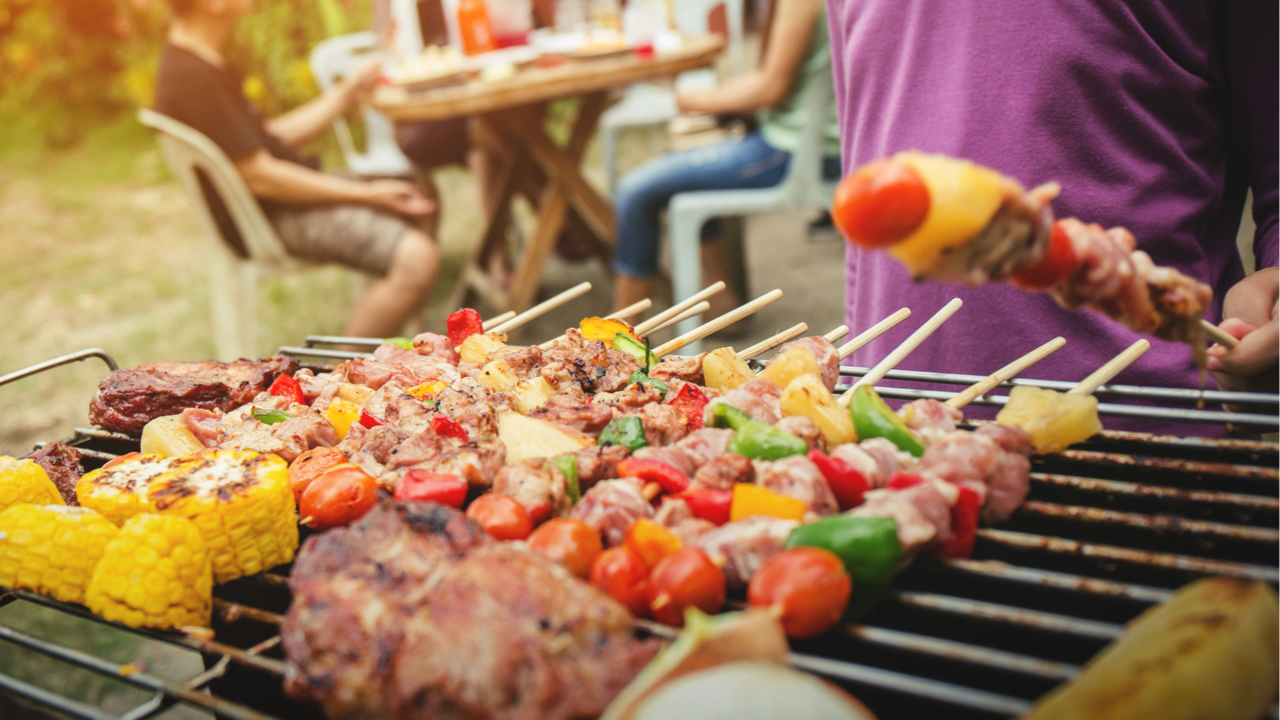 ---
There is nothing quite like the smell of a barbecue to feel those summer vibes. Keep it healthy with these tips from Emma McCarley.
Barbecue food is quick, delicious and a great way to enjoy the outdoors. There are plenty of ways to enjoy your barbecue while also making healthy choices.
1. Choose lean meats
Skinless chicken and fish are healthier protein choices, they have a lower saturated fat content compared to red meat. Also, fish like salmon, mackerel and herring contain high levels of omega-3. Omega-3 is beneficial for the health of your heart. If you do choose red meat, aim to buy leaner cuts. As well, trim away any visible excess meat.
Try our BBQ Citrus Summer Chicken and Salmon and Parma Ham.
Click for tips on how to cook fish and meat safely.
2. Include lots of colour
People don't often think of fruit and vegetables when barbecuing, but these are really tasty additions. Include a variety of fruit and vegetables. Kebabs are a fun way to do this. I love these Chargrilled Veggie Kebabs. For a sweet dessert try these Barbecued fruit kebabs.
3. Be mindful of portions
The Food Pyramid suggests the recommended portion size of meat and chicken is between 50 - 75g, around half the size of the palm of your hand. The recommended portion size of fish is 100g. Don't worry if that doesn't sound like a lot, the rest of your plate will be filled with delicious veggies and salad!
4. Consider your grilling technique
Flip meat or fish often and try not to cook the food too close to the coal. This will prevent charring/blackening of your food.
5. Go for wholegrains
If you are serving burgers, serve them in wholemeal baps. Similar with pasta salads, where possible, try for wholegrain pasta. This will increase the fibre content of the meal.
6. Try reduced fat/calorie salad dressings
If you are looking for extra flavour, add a squeeze of a slice of lime/lemon over your meal. If you want to use salad dressings and sauces, choose varieties that are low in salt, fat and/or sugar by checking the front of pack label.
Click here for how to read a food label.
Some of my favourite salad recipes:
7. Keep hydrated
Have an ice-cold jug of water on the table to stay hydrated in the summer heat. Try adding mint, cucumber, lemon or berries for some extra flavour.
Tasty food, cool drink in hand and surrounded by good company – it's hard to top it! Enjoy this barbecue season.
For more tasty barbecue recipes click here.
---