Handwashing with Rufus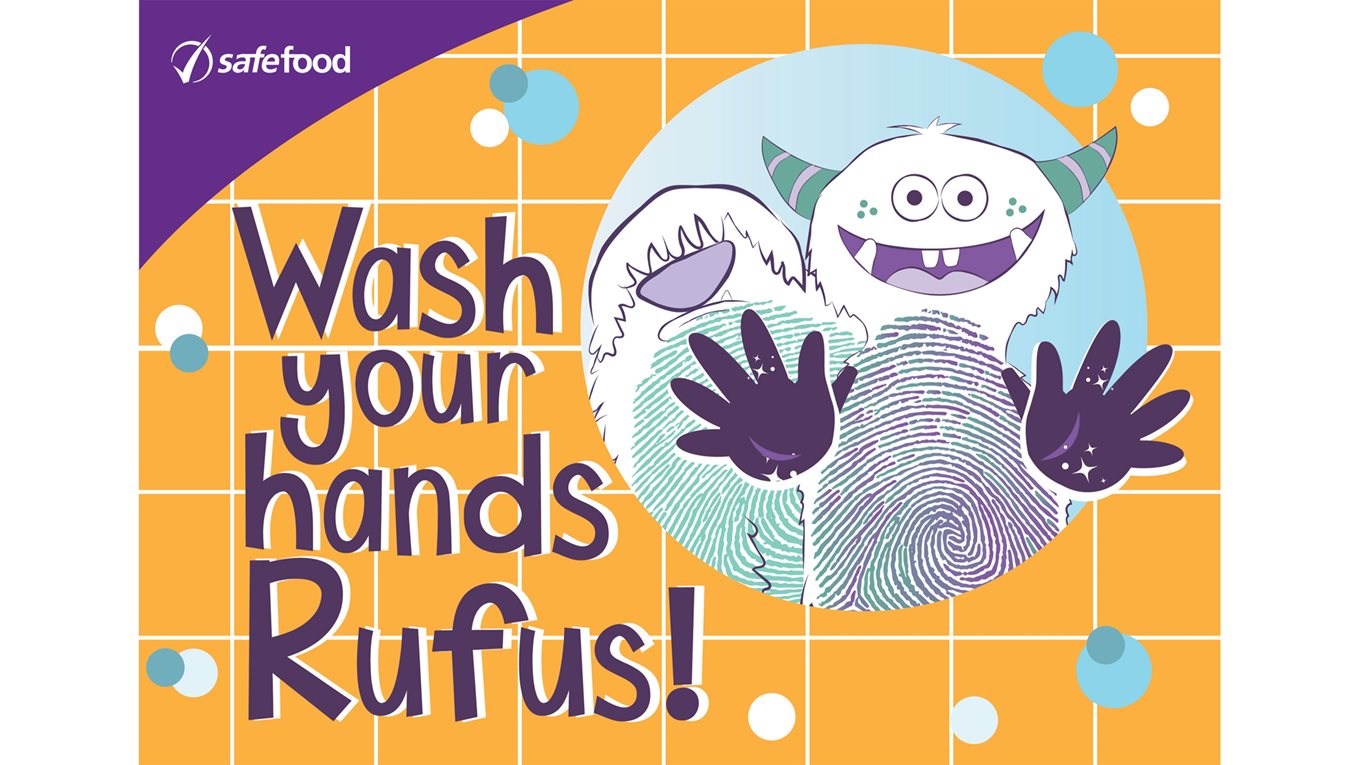 ---
Title: "Rufus the Messy Monster"​
Audience: 2-4 year old children, their parents; and pre-school workers
Channels: Radio, Outdoor, Cinema, Direct Marketing, Digital, Social Media
Web: https://www.safefood.eu/handwashing
Launch date: Phase 1: September 2017. Phase 2: September 2019
Description
An integrated awareness and education campaign to make learning about good handwashing habits fun for young children and help keep E.coli at bay.
Background
Where previous food safety campaigns focused on broad population audiences, this campaign targets a specific age group who are at a greater risk of food poisoning because of their age.
E. coli is a nasty bacteria which can make children under five seriously ill as their immune systems are not yet strong enough to fight off infection. While the majority of E.coli cases happen at home, there were 49 E.coli outbreaks in childcare settings between 2010 and 2016.
To help, we created Rufus, a friendly monster who has lots of ideas to make learning about handwashing fun and includes ideas to singalong together.
In developing the campaign, we worked closely with early years' education providers North and South to create free resources that were fun and colourful but also practical and durable for the busy crèche/pre-school environment.
For the early year's sector, there's a poster to remind pre-school staff on the importance of good handwashing habits. For children, a mini 'how-to' poster was created to fit above the sink in a crèche/pre-school where they can learn the 5 steps to handwashing (wet, soap, rub, rinse, dry) and sing-along with Rufus. This poster is also being given to parents to reinforce those learning behaviours at home. Colouring-in sheets on the safefood website are also available to download.
For 2019, the campaign is being expanded to pre-schools who educate through the Irish language.
Resource pack
We have made available a stakeholder resource pack which includes images, videos and handwashing messages.
Download the stakeholder resource pack (Zip file 38MB)
Watch the video
---