The cost of a healthy diet in Ireland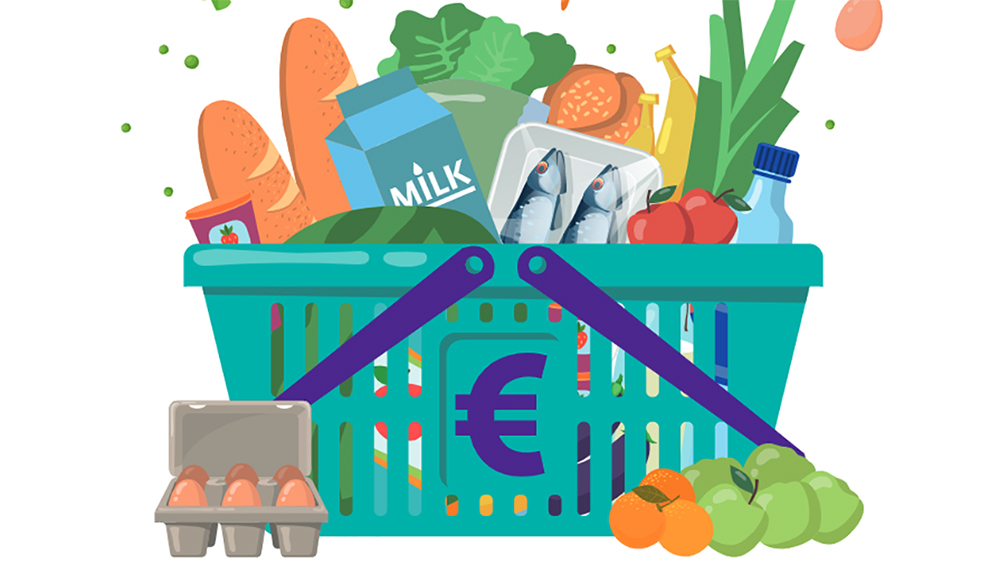 ---
Families on low-income need to spend up to one third of weekly income to afford a healthy food basket
Research highlights challenges facing families on low income in eating a healthy, balanced diet while meeting other essential household expenses
Tuesday 28th September 2021: Families on low income need to spend up to one third (35%) of their weekly take home income to afford a healthy food basket that meets basic nutritional needs, new research by safefood has found. The research also revealed the challenges facing families on low income in balancing the cost of a healthy, nutritional diet with other essential household expenses.
The research found that food costs were highest for a household on low income with two parents and two children, where the older child was in secondary school – for these families, food costs were 22% higher than a similar household with younger children. It also found that households dependent on benefits spent up to 12% more of their income on food than those where one adult was in employment.
Typically, households on a low-income tend to eat less well, which can contribute to higher levels of excess weight and corresponding health complications like heart disease and Type 2 diabetes.
The cost of eating a healthy, balanced diet for a family of four living on benefits with two adults and two children in primary and secondary school was €169 per week (35% of their household income). For a single parent living on benefits with two children in pre-school and primary school, the basket cost €103 per week (29% of their household income). By way of contrast, the most recent CSO data ² revealed that the average spend per household on food was 14.7% of their income.
Introducing the report, Joana da Silva, Chief Specialist in Nutrition, safefood said, "Our research shows the continuing challenges for families on low income in affording a healthy food basket. The report identifies the cost of a minimum but acceptable standard that will allow them to live a life with dignity. The report is based on working with members of the public to reach agreement on the minimum needed to live and partake in the social and economic norms of everyday life. Food spending is the flexible element of the household budget and people often fill up on cheap food that's nutritionally poor when prioritising other bills that need to be paid."
Robert Thornton, Senior Research and Policy Officer with Vincentian Partnership for Social Justice continued "This research shines a light on the challenge of balancing the cost of a healthy food against other needs when on a low income. Managing on a tight budget means families with children, single parents and pensioners have to make stark choices in how they spend their money".
The most recent data³ shows that 12.8% of the population are at risk of poverty while the consistent poverty rate was 5.5%
The full report "What is the cost of a healthy food basked in Republic of Ireland in 2020?"
Ends
For more information or to request an interview, please contact:
Sally McLoughlin, Wilson Hartnell
Mob: +353 87 972 2549
Email: [email protected]
Or
Dermot Moriarty safefood
Mob: +353 86 381 1034
Email: [email protected]
References
¹ What is the cost of a healthy food basket in Republic of Ireland in 2020; safefood
² Central Statistics Office (CSO 2015/2016)
³ Survey on Income and Living Conditions (SILC) 2019 (CSO) October 2020
---
Podcast
Food poverty on the Island of Ireland: We speak to the researchers for this report, Dr Bernadette Mac Mahon, Director of Vincentian Partnership for Social Justice, and Robert Thornton the Partnership's Senior Research and Policy Officer. They describe the process through which the food baskets are created, and the experience of food poverty from the point of view of those who live through it. Listen to the podcast
---
Editor's Notes
Food poverty is an issue that encompasses both the lack of access to a nutritionally adequate diet and the impact this has on health as well as the ability to participate socially through food.
The contents of the food basket costed in the study were based on menus put together by people themselves. Costs were determined for both rural and urban households. People selected an acceptable food basket in terms of taste and menu choices, while also meeting the social needs of a household for example hosting visitors or special occasions like birthdays.
The food baskets were reviewed by nutritionists from Ulster University to make sure they met the nutritional guidelines of the Food Pyramid and price-checked accordingly.
The cost of the basket for each household and percentage of income (if an adult works and earns the minimum wage or is on state benefits) is as follows:
Household Type
Total Basket Cost

% of income for adult on State Benefits

% of take home income for adult earning minimum wage

Two-parent; two-child

Pre-school & Primary school

€138 per week

29%

23%

Two-parent; two-child

Primary & Secondary school

€169 per week

35%

28%

One-part; two child

Pre-school & Primary school

€103 per week

29%

15%

Single adult

€51 per week

25%

14%

Female pensioner living alone

€62 per week

21%

n/a

Pensioner couple

€77 per week

18%

n/a
---