Advisory Board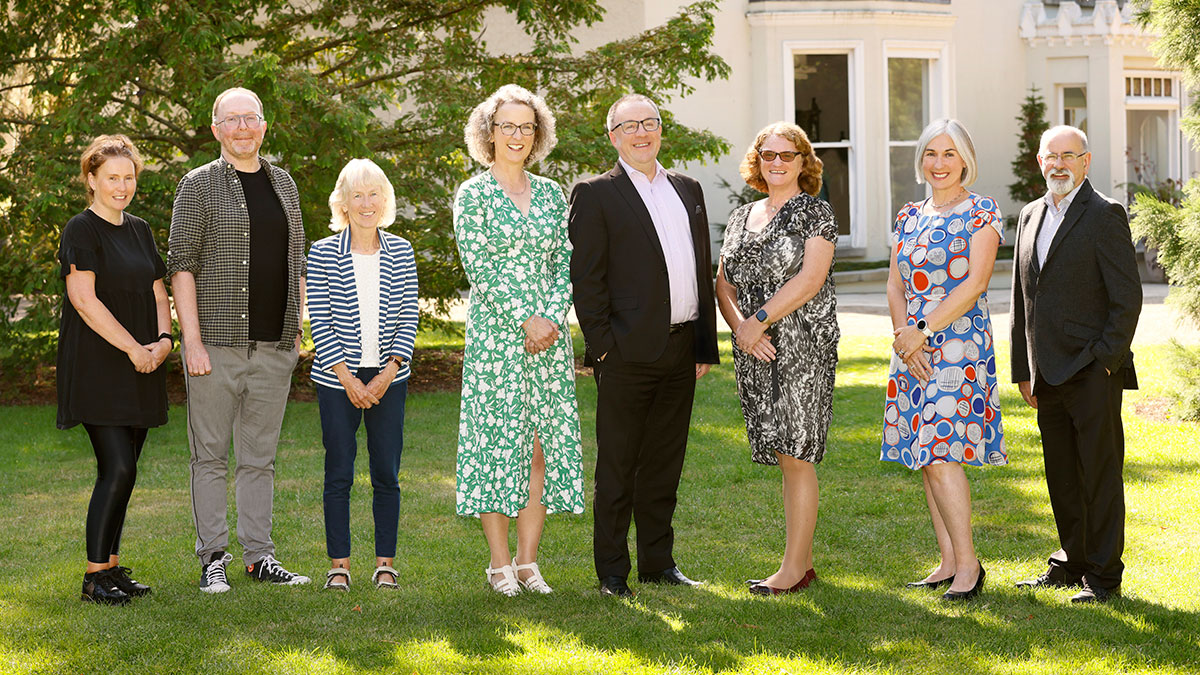 ---
safefood's Advisory Board is a broadly representative 12-member group which provides strategic advice to the Chief Executive and senior management team. The Board meets every six weeks.
Chair - Dr Eddie Rooney

Dr Rooney was Chief Executive of the Public Health Agency in Northern Ireland from its establishment in 2009 until late 2016. In that role, he was also responsible for the regional implementation of the Northern Ireland Executive's Making Life Better public health strategy. Prior to joining the Public Health Agency, Dr Rooney was Deputy Secretary in the Office of the First and Deputy First Minister and in the Department of Education where he led Fit Futures, the cross-sector task force on tackling childhood obesity.
Vice Chair - Damien McCallion
Damien McCallion is the Director General of CAWT (Co-operation and Working Together) which has led out on implementing programmes to implement innovative Health and Social Care Projects to improve the lives of people living along the border region. CAWT brings together the statutory Health and Social Care providers in both jurisdictions to achieve this. CAWT is a partnership rather than a statutory body and has leveraged this partnership model to enable collaboration across a range of Health and Social Care areas.
Damien is currently a National Director in the HSE leading the HSE National roll out of the COVID Vaccination and Test and Trace Programmes. This involves rolling out the Government's National Vaccination Strategy. In addition, he assumed responsibility for the Test and Trace programme in Q3 2021. Prior to this he led out on developing and implementing the HSE National Laboratory Testing response to COVID with a laboratory taskforce. These are a key part of the public health response to the pandemic.
His previous role was as the National Director for the HSE Screening Services having been appointed in response to the Cervical Check crisis. This role involved managing the initial response for those people impacted, ensuring continuity of screening services and subsequently implementing a substantial change programme to address recommendations from the Scally Report.
He was previously the HSE's National Director for Emergency Management and also led on Winter Planning within the HSE. Prior to this he has had a number of roles in the HSE including as National Director for the Ambulance Service. He was also Area Manager for Sligo/Leitrim/West Cavan responsible for Acute and Community Care, Director of the HSE Reform Programme and as the HSE Head of ICT.
In his role as HSE Area Manager in the North West area he also gained practical experience of implementing cross border initiatives along the border corridor. This included projects in areas such as Acute Hospital Services, Disability Services, Mental Health Services and Primary Care.
He also previously spent over ten years working in the airline industry with British Airways in London. He has also previously served on the board of the Public Appointments Service (PAS). He also holds an MSc in Change and Innovation Management.
Teresa Canavan

Teresa is the Chief Executive of Rural Action and has over 20 years' experience working in rural development. Prior to establishing Rural Action in 2019, a not-for-profit social purpose company, Teresa was Chief Executive of the Northern Ireland Rural Development Council (2013-2019). Teresa is widely respected and recognised within the sector as an expert in rural development delivery and implementation. A graduate in Business Studies, Teresa also holds an MSc in Rural Development; BA (Hons) Business Studies; HND in Business & Finance; an Advanced Diploma in Business Management & Leadership from the University of Ulster in partnership with Boston College and ILM Level 5 in Leadership.
Dr Kenneth McKenzie

Dr Kenneth McKenzie is Research Lead with the Human Sciences Studio in The Dock, Accenture's global innovation hub, where he uses human science frameworks to crack client problems. He has previously worked as a strategist in advertising agencies, working on clients across sectors including banking, food and drink, government, higher education, insurance, professional bodies, retail, and software as a service. Kenneth has also worked in academia, in TU Dublin (head of department); Trinity College Dublin (assistant professor; adjunct teaching fellow), and University College Dublin (post-doctoral researcher). He has held a visiting academic role in Burgundy School of Business. Kenneth has authored or co-authored more than 20 articles in peer-reviewed scientific journals. He is vice-chair of the board of trustees of the Irish Skin Foundation. Kenneth has a BA (Psychology) from Trinity College Dublin, and a PhD (Political Science) from Dublin City University.
Dr Sinéad McCarthy

Dr Sinéad McCarthy graduated from UCC in 2003 with a PhD in Public Health Nutrition. For more than two decades, Sinéad has been involved in many areas of nutrition research, with a focus on food and health. Sinéad's research career has ranged from human nutritional physiology to public health nutrition as well as designing and managing national food consumption programmes and consumer behaviour surveys.
Having previously worked in University College Cork and Trinity College Dublin, Sinéad is currently employed by Teagasc, where she is responsible for leading Teagasc's consumer behaviour research programme in relation to food and health. She is actively involved in the area of consumer food choice determinants and its potential climatic and health impact.
Sinéad is currently researching many on-going projects covering consumer food and health behaviour, sustainable food consumption patterns, aging and food choice, consumer acceptance of novel food technologies and functional foods.
Professor Maeve Henchion

Maeve Henchion (BAgrSc, PhD) is Head of Department of Agrifood Business and Spatial Analysis in Teagasc, the Irish Agriculture and Food Development Authority. She is also Adjunct Professor at the School of Agriculture and Food Science at University College Dublin.
With a research career spanning 25 years, she brings a social/behavioural science dimension to multi- and inter-disciplinary research projects on a wide range of issues that affect agriculture and food. She is involved in identifying new technology, market and value chain opportunities for the Irish industry and understanding consumer, citizen, industry and farmer attitudes and behaviours that could influence the realisation of such opportunities.
She is currently particularly interested in innovation in the circular bioeconomy, sustainable food production and consumption, and food quality and integrity.
Professor Elizabeth Keane

Professor Keane is a Public Health Physician and adjunct Professor of Public Health and Epidemiology in the School of Public Health in University College Cork.
Dr. Keane graduated in Medicine from University College Cork, obtained MPH from UCD and is a Fellow of the Faculty of Public Health Medicine at the Royal College of Physicians.
She was Director of Public Health in HSE South (Cork and Kerry) from 1995 until 2014.
Dr Keane was elected Dean of the Faculty of Public Health Medicine at the Royal College of Physicians in 2014.
Dr Keane has held several Ministerial appointments on statutory Boards including the National Cancer Registry, Irish Blood Transfusion Service, Interim Health Information and Quality Authority, Irish Medicines Board and the Health Products Regulatory Authority.
With over 30 years' experience in the practice of Public Health Medicine, Dr Keane has a particular interest in the role of food, food safety and healthy eating as determinants of population health.
Irene Collins

Irene was managing director of Excellence Ireland Quality Association (better known as The Q Mark) between January 2008 & December 2020. Prior to that she was operations director of Compass catering services Ireland for a period of 15 years. She is a graduate of UCC, UCD & CIT (now Munster University) with many qualifications and extensive experience in the key areas of: Quality standards, Food safety, Health & Safety, Environment, Food production, Food service, Supply chain management and Corporate direction. Combining her love of growing vegetables with applied culinary nutrition in menu design and execution she recently graduated with a BA (Hons) in Botanical Cuisine from TU Dublin Tallaght Campus.
Irene is currently a non-executive director of ELVES (End of Life Vehicles Environmental Scheme) and is also on the audit committee.
Alex Attwood

Alex Attwood was an elected representative for the constituency of West Belfast for 31 years up to 2017 serving as first a member of Belfast City Council and then the NI Assembly. He was a Minister in the NI Executive from 2010 to 2013 as Minster for Social Development and subsequently Minister for the Environment.
He has been heavily involved in negotiations in relation to the implementation of the Good Friday Agreement from issues of law, order and justice to the legacy of the conflict, programmes of government and reform of the institutions of the state including policing. He was a lead member of the 1st NI Policing Board working to deliver a new beginning to policing.
From 2017 he has been working in countries in or emerging from conflict including Ukraine and in Iraq following the liberation from Daesh. He is currently a member of the UK Electoral Commission. He also participates in the development of answers to present and longer-term political and policy challenges in Northern Ireland and Ireland.
Alan Lewis

Alan Lewis is a victim's advocate working within the Victims and Survivors Service in Northern Ireland. Elected to Newry Mourne and Down Council in 2019. He also serves as Chairman of the district Policing & Community Safety Partnership and was formerly an advisor in Stormont from 2010 to 2016.
On council he has supported Initiatives to improve food standards, food control, nutrition and dietary health, encouraging residents to form a healthy and stable diet while also recognising the cost of living crisis and how this impacts people's weekly shop.
He recently brought a motion which secured cross party support to establish a sustainable development fund aimed at offering local communities the opportunity to apply for funding which would enable them to plant fruit bearing trees, creating community gardens.
Members of the Advisory Board complete a Declaration of Interests annually. A Register of Interests is maintained and is available on request.
Advisory board minutes
2023
2022
2021
Minutes for previous years are available on request.
---