Advisory Board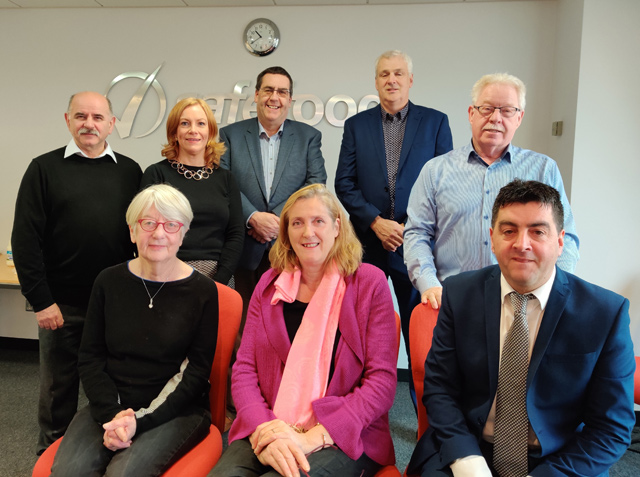 ---
safefood's Advisory Board is a broadly representative 12-member group which provides strategic advice to the Chief Executive and senior management team. The Board meets every six weeks.
Chair - Ms Helen O'Donnell

A well-known Limerick City businesswoman and voluntary community activist, Helen was Limerick Person of the Year 2012. She is the proprietor / manager of the Hunt Museum Café and bespoke event catering business, and also chairperson of the Board of Management of Crescent College Comprehensive SJ and a member of An t-Údarás Rialaithe, the governing body of Mary Immaculate College.
Helen is Chairperson of Limerick City Tidy Towns committee; a member of the JP McManus Benevolent Fund Committee; past Chairperson of Adapt women's refuge; past President Limerick Federation of Women's Organisations and has served on the board and executive committee of Limerick Chamber of Commerce. At national level, she served as a member of the Forum for Peace and Reconciliation and is presently Chairperson of the safefood Advisory Board. A native of Sligo, she was educated at Grange National School, Grange Vocational School, Convent of Mercy, Claremorris and College of Catering, RTC Galway.
Vice Chair - Vacant
Teresa Canavan
Teresa is the Chief Executive of Rural Action and has over 20 years' experience working in rural development. Prior to establishing Rural Action in 2019, a not-for-profit social purpose company, Teresa was Chief Executive of the Northern Ireland Rural Development Council (2013-2019). Teresa is widely respected and recognised within the sector as an expert in rural development delivery and implementation. A graduate in Business Studies, Teresa also holds an MSc in Rural Development; BA (Hons) Business Studies; HND in Business & Finance; an Advanced Diploma in Business Management & Leadership from the University of Ulster in partnership with Boston College and ILM Level 5 in Leadership.
Mr Brendan Kehoe

Mr Kehoe is a dairy, beef and tillage farmer and is currently serving on a regional advisory committee for Glanbia.
He is a committee member of the South East Simmental Cattle Society and is also active in local politics.
Dr Sinéad McCarthy
Dr Sinéad McCarthy graduated from UCC in 2003 with a PhD in Public Health Nutrition. For more than two decades, Sinéad has been involved in many areas of nutrition research, with a focus on food and health. Sinéad's research career has ranged from human nutritional physiology to public health nutrition as well as designing and managing national food consumption programmes and consumer behaviour surveys.
Having previously worked in University College Cork and Trinity College Dublin, Sinéad is currently employed by Teagasc, where she is responsible for leading Teagasc's consumer behaviour research programme in relation to food and health. She is actively involved in the area of consumer food choice determinants and its potential climatic and health impact.
Sinéad is currently researching many on-going projects covering consumer food and health behaviour, sustainable food consumption patterns, aging and food choice, consumer acceptance of novel food technologies and functional foods.
Professor Maeve Henchion
Maeve Henchion (BAgrSc, PhD) is Head of Department of Agrifood Business and Spatial Analysis in Teagasc- the Irish Agriculture and Food Development Authority. She is also Adjunct Professor at the School of Agriculture and Food Science at University College Dublin.
With a research career spanning 25 years, she brings a social/behavioural science dimension to multi- and inter-disciplinary research projects on a wide range of issues that affect agriculture and food. She is involved in identifying new technology, market and value chain opportunities for the Irish industry and understanding consumer, citizen, industry and farmer attitudes and behaviours that could influence the realisation of such opportunities.
She is currently particularly interested in innovation in the circular bioeconomy, sustainable food production and consumption, and food quality and integrity.
Mr Alan McGrath

Mr McGrath is a health food retailer and proprietor of The Health Store in Tuam, County Galway. He has been active in many local enterprise groups including Action Tuam Ltd, Tuam Chamber of Commerce, Energise Tuam and "Love your Town", a shop local promotional group.
He is an active member of Irish Association of Health Stores and was formerly Chairman from 2009-2011.
Mrs Wendy McIntosh

Ms McIntosh is a Partner in Thompson Mitchell Solicitors, Portadown - a provincial private practice. She joined the Firm in 1999 and her main areas of practice are family and matrimonial law, personal injury claims and civil litigation. Ms McIntosh is a graduate of Queen's University Belfast and has been a member of the Law Society of Northern Ireland and a practicing solicitor since 1996. She is also a Solicitor Advocate and a Collaborative Family Solicitor. In 2015 she was appointed as a Presiding Member to the Civil Legal Services Appeal Panels an independent appeals mechanism established to deal with appeals against decisions of the Legal Services Agency to grant or refuse Civil Legal Services.
Ms McIntosh is also the Vice-Chairperson of the Board of Governors for a local school having served on the Board since 2006.
Mr Stephen Moutray

Mr Moutray is a director in a family food-retail business which was established in 1961. He was a DUP Member of the Northern Ireland Assembly from 2003-2016 and chaired the Agriculture, Executive Review Committees. He was Alderman with Craigavon Borough Council form 2001-2014 and chaired both Development and Audit Committees.
Mr Moutray also served as Mayor of Craigavon from 2010-2011.
Dr Eddie Rooney

Dr Rooney was Chief Executive of the Public Health Agency in Northern Ireland from its establishment in 2009 until late 2016. In that role, he was also responsible for the regional implementation of the Northern Ireland Executive's Making Life Better public health strategy. Prior to joining the Public Health Agency, Dr Rooney was Deputy Secretary in the Office of the First and Deputy First Minister and in the Department of Education where he led Fit Futures, the cross-sector task force on tackling childhood obesity.
Dr Mary Upton
A microbiology graduate from University College Galway with a Ph.D. in microbiology from University College Dublin (UCD), Dr Upton was a UCD lecturer and has published a number of academic papers on food safety and related topics. She was elected as a TD in 1999 and served as her party's spokesperson on Agriculture and Food for four years until her retirement from politics in 2011.
Formerly Secretary and President of the Institute of Food Science and Technology of Ireland, Dr Upton has also served as Chairman of the National Council for Educational Awards and was formerly Chairman of the Radiological Protection Institute of Ireland.​
Alex Attwood
Details to come
Members of the Advisory Board complete a Declaration of Interests annually. A Register of Interests is maintained and is available on request.
Advisory board minutes
---