safefood to fund 13 community food initiatives over three years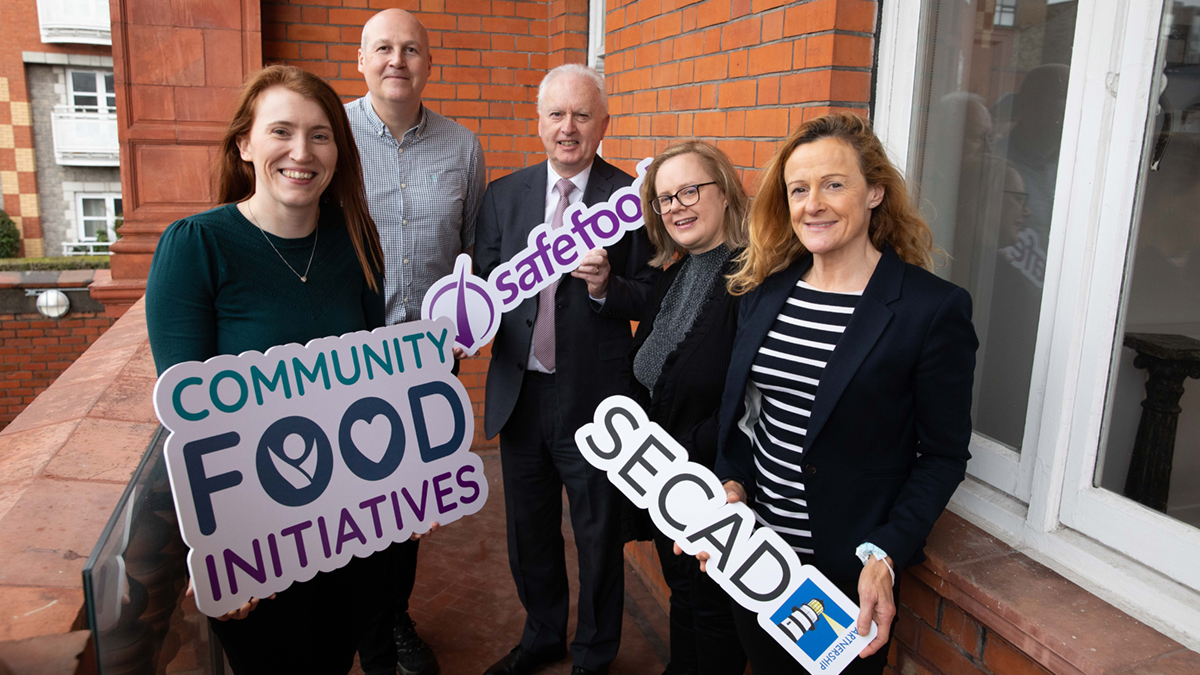 ---
New Funding Awarded to Community Food Initiatives to help positively influence healthy eating habits in communities. #CommunityFood
Wednesday 9th March 2022: safefood has announced the recipients of funding for the Community Food Initiatives Programme 2022-2024. The programme aims to positively influence healthy eating habits by supporting the development of skills and knowledge around food, healthier shopping and cooking skills.
The 13 community projects that will receive funding over the next three years were officially launched in Dublin. safefood is investing a total of €740,000 over the three years of the initiative to help each of the projects set up, manage and sustain their work. Welcoming the new projects, Ray Dolan, Chief Executive safefood said:
"The work of Community Food Initiatives has never been more important. We face rising food and living costs and the pressure that puts on low-income families in eating a healthy, balanced diet while meeting other essential household expenses. The projects joining our CFI programme today put healthy eating on the agenda in local communities and can improve family health, tackle inequality and change people's lives for the better. By focusing on skills and knowledge in relation to food, this can have a transformative effect on families across the island of Ireland."
The CFIs (Community Food Initiatives) will be administered at a local level by South & East Cork Area Development (SECAD) CLG. Speaking at the launch, Ryan Howard Chief Executive SECAD said:
"We are delighted that safefood has entrusted us with the role of coordinator for the Community Food Initiative (CFI) 2022-24. We have designed the CFI in a manner that fits well within existing local development structures and supports. The programme will be delivered by a group of selected local development bodies across the Island of Ireland – four in Northern Ireland and nine in Republic of Ireland - who have identified how they can maximise the impact of the Community Food Initiative in their areas. By working with the local development sector, notable impacts have and will continue to be achieved through the CFI."
"This is realised through 'partnership' – between safefood, SECAD, the CFI Leaders and a range of stakeholders such as the Health Services in the Republic and Northern Ireland, other state services, relevant professionals and a range of community initiatives that each CFI Leader will coordinate. This is an ultimately sensible and logical use of public resources, bringing together a coordinated and focused service to those that are in most in need of this support. Each project itself provides an exemplar for others to follow, and these can inform safefood in terms of inputting into current and future policy development in Ireland. SECAD Partnership are proud to be coordinating this important work."
The Community Food Initiative (CFI) programme is administered at a local level by SECAD Partnership CLG on behalf of safefood.
Ends
---
For more information or to request an interview, please contact:
Dermot Moriarty/Maeve Wrixon, safefood
Tel: +353 (0)86 381 1034 (Dermot) / +353 (0)87 334 1586 (Maeve)
[email protected]
www.safefood.net/community-food-initiatives
Sinead Conroy South & East Cork Area Development (SECAD) CLG
[email protected]
Tel: +353 (0)87 354 3606
For more information on SECAD, please visit www.secad.ie
---
Editor's Notes
1. Pictured above at the launch of the safefood Community Food Initiatives Programme 2022-2024 were (L to R); Julie White, Old Library Trust Healthy Living Centre, Co Derry; Darren Moan, Department of Health NI; Ray Dolan, safefood; Sinead Conroy and Toni McCaul, SECAD.
2. First launched in 2010, 44 community initiatives to date have received funding from safefood to set up, implement and grow their project in the local community. The projects also are a part of a wider community development network on the island where support and experiences from previous programmes are shared among the newer projects to promote sustainability.
The Community Food Initiatives 2022 – 2024
The ARC Healthy Living Centre, Fermanagh
Ballyfermot Chapelizod Partnership, Dublin
Ballyhoura Development, Cork / Limerick
County Armagh Community Development (CACD), Armagh
Carlow County Development Partnership, Carlow
Empower, Dublin
Galway City Partnership (GCP), Galway County
Kildare Leader Partnership CLG, Kildare
New Lodge Duncairn Community Health Partnership, Antrim
Offaly Local Development Company, Offaly
Old Library Trust Healthy Living Centre, Derry
Sligo LEADER Partnership CLG, Sligo
South Kerry Development Partnership CLG, Kerry
---