Let's go easy on the treats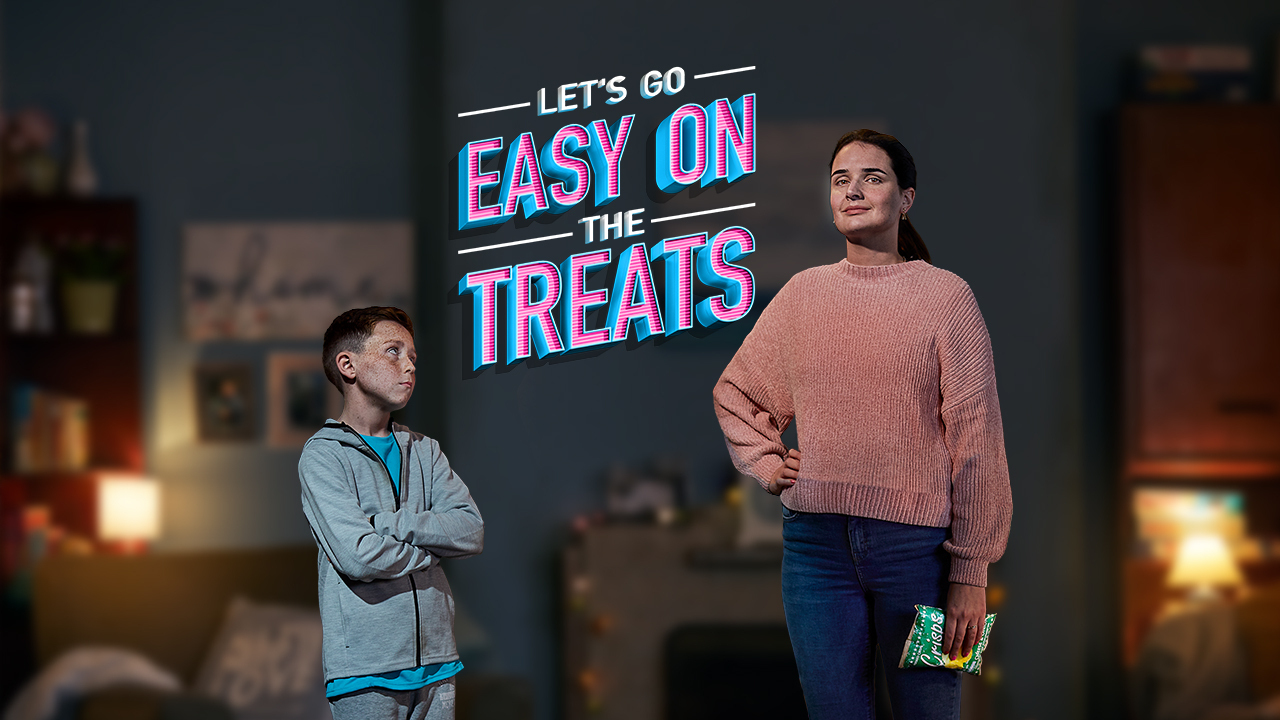 ---
​Research by the START campaign reveals parents and guardians believe that talking to children and encouraging moderation is the key to reducing treats for families.
14th October 2021: New research¹ with parents and guardians for the START campaign, has revealed that while they want to reduce treats like crisps, chocolate and biscuits for children, they find saying no difficult. They also said they found saying no to treats had got more difficult during the course of the past year. Working from home and having children in the home more often had contributed to this increase.
While pre-Covid research² showed that foods like biscuits, crisps and chocolate were the second-most consumed food group by children, 50% of parents and guardians³ believe this has increased in the last year. As a result, safefood, HSE and Healthy Ireland believe that this is an important time to refocus on decreasing the amounts of treats they give to children and to give them less often.
Dr Aileen McGloin, nutritionist with safefood said "Parents are aware that they need to say no to treats more often but they believe that encouraging treats in moderation feels much more achievable and realistic for them. It reminds them that it is ok to offer treats on occasion. While our healthy eating guidelines* don't include treats as being necessary for good health, if children are eating them, the rule of thumb is 'small amounts and not every day'.
Sarah O'Brien, HSE national lead on the START campaign continued,
"The recommendation from the Department of Health's Food for Life guidelines, is to limit treat foods to small amounts once or twice a week for children over five and no more than once a week for children under five. This is so far from the norm in our society and the marketing of these types of products is so widespread that parents struggle to achieve it. Parents and guardians have told us that they want help with giving their children less treats and would like additional information on healthier snack alternatives to treats. Children, and particularly small children, often need healthy snacks between meals to provide all the nutrients they need for their growing bodies. Simple options such as yoghurt, fruit, popcorn, cheese or peanut butter and crackers are all good choices. Parents will find lots of tips and advice on www.makeastart.ie."
Parenting expert Colman Noctor added "From the research, parents and guardians felt that it is important to discuss reducing treats together as a family. Rather than just saying no to treats outright, they wanted to be able to discuss the benefits of eating healthily with children and the long-term gains of doing so. They also wanted to be equipped with the relevant information they need to discuss this with children, as well as practical tips for how to broach the conversation. By making the decision to reduce treats together as a family, and making sure children understand why you are doing this, it will make you far more likely to succeed which will also help them to form healthier eating habits later in life.
The latest phase of the START campaign begins on Monday 18th October and aims to support parents and guardians to talk to children about treats, reduce treats and achieve moderation. The START website www.makeastart.ie includes lots of information on how to help reduce treats, ideas for healthy snacks and videos from HSE parenting experts.
Ends
For further information or to request an interview, please contact:
Sally McLoughlin, Wilson Hartnell
Mob: +353 87 972 2549
Email: [email protected]
Or
Dermot Moriarty
safefood
Mob: +353 86 381 1034
Email: [email protected]
Editor's Notes:
Advice from the START campaign to help you with giving treats a break:
It's difficult to avoid treats when shopping. So agree what treats you're getting before you go so that you put less in your basket or trolley - if they aren't at home it reduces temptation.
Get the children involved in planning healthy snacks - start a family challenge - use star charts for all the family to increase their fruit and vegetable intake.
Use non-food treats – like planning a trip to a new playground, the beach or other things your children enjoy.
Make healthy swaps: Offer crackers and cheese instead of chocolate biscuits, choose plain popcorn or breadsticks instead of crisps, offer a low-fat yogurt or fruit straight after school instead of a chocolate bar.
*Current national healthy eating guidelines don't include treats as being necessary for good health, if children are eating them, the rule of thumb is 'small amounts and not every day'. For a child aged over 5, this might mean a fun-size treat once or twice a week while for under 5s only a tiny amount is recommended and no more than once a week. This would equate to something like 1 square of chocolate, 5 crisps, Half plain biscuit or 3 soft sweets.
The START campaign is a five-year public health awareness campaign from safefood, the HSE and Healthy Ireland. The campaign is encouraging families to take the first step towards a healthier lifestyle for their children by supporting them with one daily win and to persist with the changes, no matter how difficult they become. To find out more about the START campaign and ways to make a healthy, positive start visit www.makeastart.ie
In identifying the positive starts that parents and families can take, the campaign advertising focuses on seven key lifestyle habits:
Minimise intake of foods high in fat, salt and sugar
Establish water and milk as routine drinks
Give appropriate child-sized portions to children
Include more fruit and vegetables across the week
Increase physical activity levels
Limit screen time
Increase sleep time
The campaign was developed using a 'co-creation' approach, which involves working with parents and guardians in particular and key stakeholders to ensure the campaign is relevant, realistic and can achieve results.
References:
¹Core Research/HSE; START Campaign; July 2021
²"Why do adults give food treats to children?" (safefood; University College Dublin; Ulster University; The Open University and Dublin Institute of Technology; 2019)
³Ipsos MRBI;safefood Omnibus survey March 2021
---