Relaunch of 'Transfom your Trolley' campaign in NI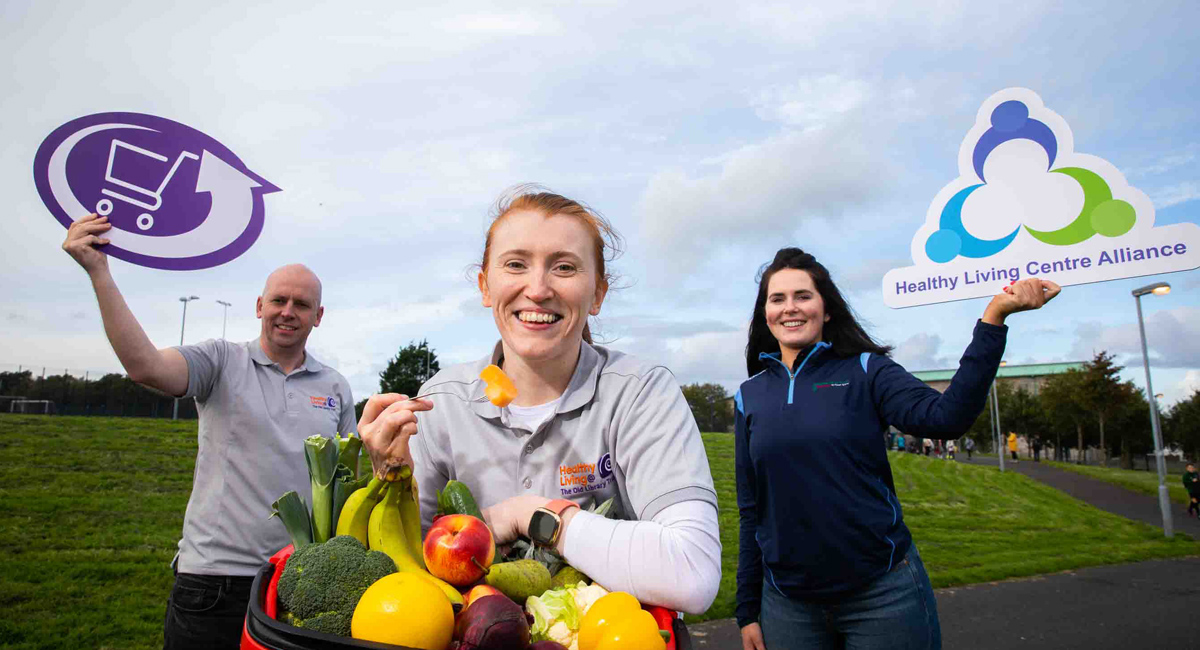 ---
Northern Ireland families urged to transform their trolleys to cut down on high levels of sugar and fat in their diet

safefood relaunches hugely successful 'Transform Your Trolley' campaign to transform shopping habits in local communities
Thursday 30th September 2021: Northern Ireland families are being urged to transform their shopping trolleys to cut down on high levels of added sugar and saturated fat in their diet as obesity levels continue to rise.
safefood has partnered with the Healthy Living Centre Alliance to launch its hugely successful 'Transform Your Trolley' programme in communities across Northern Ireland to support families to improve their shopping trolleys by replacing fatty and sugary foods with healthy, balanced meals.
Almost two-thirds of adults (62%) and over a quarter of children (27%) are now categorised as overweight or obese* with people consuming too much saturated fat and added sugar, and not enough fruit, vegetables, oily fish or fibre, compared with government recommendations**.
The 'Transform Your Trolley' programme will see 18 Healthy Living Centres across Northern Ireland deliver community support programmes and online events working alongside the local Health & Social Care Trusts.
From reshaping existing shopping habits, to providing new ideas to help meal planning and shopping lists, how to cook basic nutritious meals, and making use of leftovers, the programme will encourage participants to make small, practical changes aimed at positively influencing their eating habits.
Joana da Silva, Chief Specialist in Nutrition at safefood said: "We are delighted to once again team up with the Healthy Living Centre Alliance to bring back the 'Transform Your Trolley' programme, an initiative that is positively influencing the lives of families across communities in Northern Ireland.
"We had phenomenal results from last year's inaugural campaign with 98% of our participants saying the programme will permanently change the way their family eat in the future."
"The programme offers up tips and advice on how making small changes to the way you shop can support a healthier lifestyle for our households.
"We know how challenging it is to organise our weekly shop and to cook a balanced diet but our 12-step guide to meal planning and food shopping make that easier.
The 'Transform Your Trolley' programme is delivered in partnership with the Healthy Living Centre Alliance, an active network of community-led health improvement organisations based in rural and urban areas across Northern Ireland.
Tony Doherty, Regional Coordinator at the Healthy Living Centre Alliance said: "Transform Your Trolley is set to work with a much larger range of families as we expand the number of Healthy Living Centres involved in 2021.
"We are delighted to welcome onboard new organisations for the first time, organisations that will expand this programme's reach and share the message that small steps in the way families shop and eat can really make a difference to their health.
"These community-led projects will help increase knowledge around meal planning, teach healthier food shopping and enhance basic cooking skills that will help people make practical changes towards a healthier diet for the long-term."
The Healthy Living Centres participating in the 'Transform Your Trolley' programme are:
ARC Healthy Living Centre, Enniskillen
Bogside and Brandywell Health Forum, Derry~Londonderry
Causeway Rural & Urban Network, Coleraine
Clan Na Gael, Lurgan
Clanrye Healthy Living Centre, Newry
Derg Valley Healthy Living Centre, Castlederg
H.E.A.R.T Project, Belfast
Ligoniel Healthy Living Centre, Belfast
LORAG, Belfast
Loughgiel Community Association, Ballymena
New Lodge Duncairn Community Health Partnership, Belfast
Oak Healthy Living Centre, Lisnaskea
Old Library Trust Healthy Living Centre, Derry~Londonderry
Peninsula Healthy Living Partnership, Kircubbin
Poleglass Community Association, Belfast
Resurgam Healthy Living Centre, Lisburn
Top of the Rock Healthy Living Centre, Belfast
Verve Healthy Living Network, Craigavon
For more information on safefood's 'Transform Your Trolley' campaign visit: www.safefood.net/transform
safefood's 12 step guide to meal planning and food shopping:
Plan your meals/snacks: Check what you have in the cupboards, fridge and freezer and only shop for what you need. Remember to throw out food past its use-by date.
Make a shopping list: This will help you buy what you need and avoid those impulse purchases.
Beware of special offers: Unless they fit in with what's on your list, walk on by. Steer clear of temptation and avoid aisles where you know you'll find it. A third of foods on special offer aren't that good for you.
Shop alone if you can: if you know pester power is an issue, try to avoid bringing children on the family shop.
Don't go shopping when you're hungry: Have a small snack like a piece of fruit or popcorn, to help you make better choices and get to the checkout treat-free.
Don't shop when you are tired or stressed: We tend to reach for the comfort foods to help us get through. If it's possible, try and pick a time and a day when you're under less pressure.
Know your labels: try comparing some of your favourite foods. You want to choose foods lower in fat, added sugar and salt. Also check use-by-dates to avoid buying food that will need to be used quickly.
Check that packaging: Don't buy food with damaged packaging (e.g. cans should be free from dents or bulges, packaging should be free from damage or leaks)
Get those cold foods home fast: take frozen and chilled foods straight home to the fridge and freezer and never leave food in a hot car
Do a check before you checkout: watch out for the treats and unplanned food items. We get enough of those elsewhere without putting them in our shopping trolleys.
Bag your groceries safely: pack cold foods together and separate raw meats, poultry and seafood from other foods. Also remember to clean reusable bags by putting them into the washing machine on a regular basis to keep them clean.
Plan for the journey home: use a coolbag or coolbox to keep your groceries cold during the trip home, particularly in warm weather or if you have a long journey home
-Ends-
For further information or to request an interview, please contact:
Russell Lever
ASG & Partners
Mob: 077 8828 8901
Email: [email protected]
Or
Dermot Moriarty
safefood
Mob: 00353 86 381 1034
[email protected]
References:
*National Centre for Social Research (NatCen Social Research) MRC Elsie Widdowson Laboratory (MRC EWL). National Diet and Nutrition Survey (NDNS RP): Results for Years 5 to 9 (combined) of the Rolling Programme for Northern Ireland (2012/13 - 2016/17)
and time trend and income analysis (Years 1 to 9; 2008/09 - 2016/17). 2019.
**Department of Health. Health Survey Northern Ireland: First Results 2018/2019. Belfast: 2019.
---