Keeping active – strategies to improve physical activity for all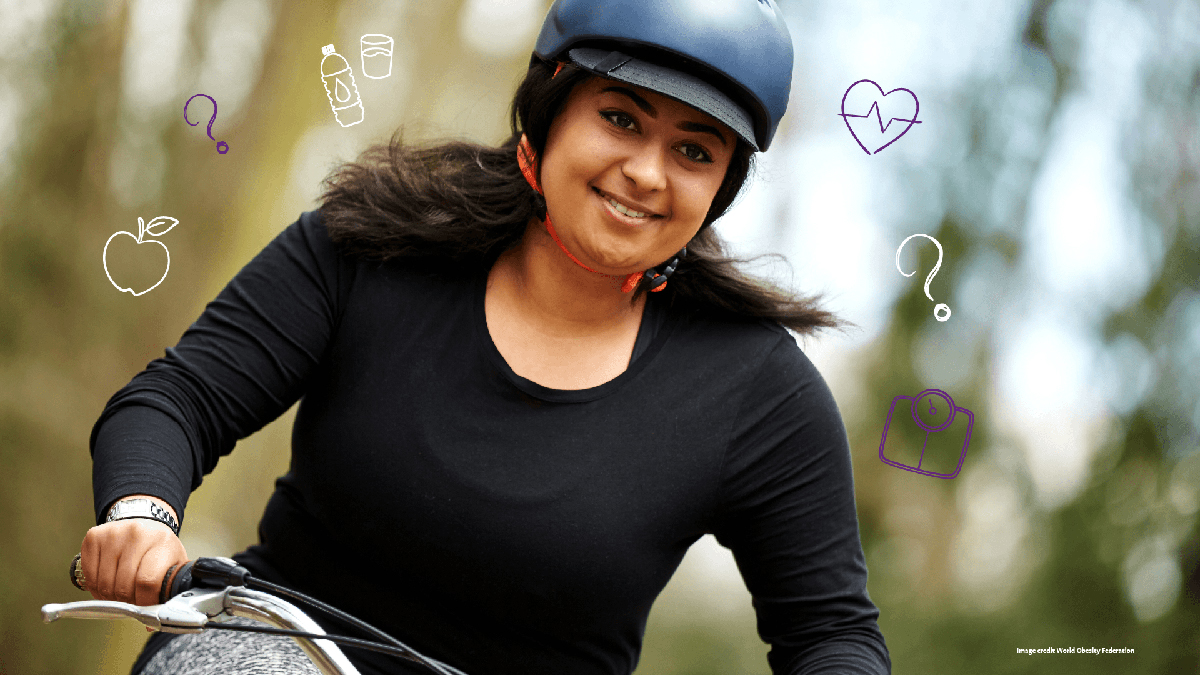 ---
The webinar explored the barriers to physical activity for individuals living with obesity, and the policies and interventions designed to increase physical activity.
Catch up: Watch the presentations
Physical activity is associated with significant health benefits such as reduced risk of chronic diseases, improved cardio-respiratory and muscular health, and weight maintenance. On the other hand, physical inactivity is associated with increased risk of chronic diseases such as cardiovascular disease and cancer.
Speakers included Dr Celine Murrin from University College Dublin who launched new research on the food environment in spaces promoting physical activity to children. Patient representatives from the Irish Coalition for People Living with Obesity (ICPO) discussed their experience of the barriers to physical activity. Mr Robert Heyburn from the Department for Communities NI explored promoting physical activity through policy in Northern Ireland. Dr Fiona Mansergh (Department of Health), Professor Catherine Woods (University of Limerick) and Mr Benny Cullen (Sport Ireland) gave a joint presentation highlighting the learnings from evidence-based interventions to promote physical activity.
This webinar hosted by the All-island Obesity Action Forum was supported by safefood, the Association for the Study of Obesity on the Island of Ireland (ASOI), Sport Ireland, the Irish Physical Activity Research Collaboration (I-PARC), and Healthy Ireland.
Food for Children in Social Spaces, Dr Celine Murrin
---
Barriers to physical activity, Irish Coalition for People Living with Obesity
---
Promoting physical activity through policy in Northern Ireland, Mr Robert Heyburn
Presentation slides are available on request from obesityforum@safefood.net.
---
Combining Research, Practice and Policy to Achieve Real Change, Dr Fiona Mansergh, Professor Catherine Woods and Mr Benny Cullen
---
Q & A session
---
Speakers
Dr Celine Murrin, University College Dublin
Dr Celine Murrin is a lecturer in Public Health Nutrition in the School of Public Health, Physiotherapy, and Sports Science in University College Dublin. Her research to date has focused on the area of child obesity and she has a particular interest in the socio-ecological determinants of dietary behaviours in early life. At present she is Principal Investigator of two Department of Agriculture funded projects one of which is Evaluating the EU School Food Scheme in Ireland and the second is a pilot study to implement a preschool milk scheme. She is also PI on an Irish Heart Foundation Project on Health Literacy in Adolescents. As a collaborator on a three-year EU Joint Programming Initiative: Policy Evaluation Network she co-chairs a work package on policy indicator monitoring and surveillance. As deputy Director of the National Nutrition Surveillance Centre, she is involved in a programme of work in partnership with the Health Service Executive, Health and Wellbeing division. Celine has led and collaborated on several safefood projects, including Food marketing to preschool children, Adult perceptions of food treats for children, and her most recent work was examining the Food for children in social spaces.
Ms Maura Murphy, Patient representative, Irish Coalition for People Living with Obesity (ICPO)
My name is Maura Murphy; I have been living with my weight since the age of 12. I was always very active, I played sport for many years, yet over the years, in spite of having tried every diet phase available I still gained at least one stone annually. In 2008 I attended the Weight Management Clinic in Dublin. I underwent bariatric surgery (sleeve) in 2012, I lost ten stone, I believe this operation saved my life and also gave me so much more to enjoy such as my mobility improved. I was finally able to undergo a hernia operation after suffering with it for many years. My diabetes Type 2 was no longer an issue. I will happily share my journey hoping it will encourage others to be more proactive about their weight and also with the hope that science will someday figure out why I and many others have been living with this chronic disease. I became a patient advocate of the Weight Management Clinic in St. Columcille's Hospital in Loughlinstown, Dublin. I am also a patient representative of ASOI and I am Secretary of the newly founded ICPO (Irish Coalition for Patients with Obesity). I am passionate about representing patients who are overweight and patients living with obesity as many of these patients, due to stigmatisation remain hidden and silent. I am also passionate about People First Language. I am a person living with Obesity never an obese person.
Mr Robert Heyburn, Department for Communities NI
Robert Heyburn is a Senior Strategy and Policy Manager with the Department for Communities NI with a specific emphasis on Sport and Physical Activity. Robert has been working in the Sports Policy area since 2007 and has responsibilities in Outdoor Recreation, Adventure Activities, Motorsports, Martial Arts, Special Olympics and sport for those living with disabilities. A developing focus over the past 7 years has been the interface of sports with health issues such as concussion, resuscitation and obesity prevention. In 2015-16 Robert was part of a development team that developed the current Active Living: No Limits Action Plan 2016-2021 which has led to a sea-change in the approach of attitudes towards and provision of sports activities for those living with physical disabilities, sensory impairments and learning difficulties. Robert has also played a significant role as part of a sectoral representative team that brought forward a The Wellbeing in Sport Action Plan 2019-2025 which provides a commitment to improve the mental health and wellbeing for people involved in Sport in Northern Ireland, where Sport has a strong and positive role to play in supporting mental health and wellbeing for all. In 2015 Robert led a review of the current Sport Matters: The Northern Ireland Strategy for Sport and Physical Recreation, 2009-2019 ( link to download) and as a consequence of that experience has been a member of the Project Team bringing forward development proposals for a new 10 Strategy for Sport and Physical Activity under the S2020 Project.
Dr Fiona Mansergh, Department of Health
Dr. Fiona Mansergh is an Assistant Principal Officer working in the Health and Wellbeing Programme (Healthy Ireland) in the Department of Health. Health and Wellbeing has responsibility for leading and co-ordinating the implementation of Healthy Ireland, the Framework for improved Health and Wellbeing, 2013-2025.
In partnership with the Department of Tourism, Culture, Arts Gaeltacht, Sport and Media and the National Physical Activity Plan Implementation Group, Fiona has responsibility for oversight of the implementation of the National Physical Activity Plan, in collaboration with other key Government Departments, the HSE, Sport Ireland, the Federation of Irish Sport and the academic sector. Key aims of both the National Physical Activity Plan and National Sports Policy include increased participation in physical activity and sport and strengthening the research, monitoring and evaluation measures included in both policies.
Fiona is a former scientist with over 20 years of research experience and has also previously worked with Science Foundation Ireland. Fiona represents the Department of Health as a member of Ireland's Physical Activity Research Collaboration, the Active School Flag Steering Committee and was a member of the Children's Sport Participation and Physical Activity Study Steering Group, led by Sport Ireland. Fiona is also involved in managing the Healthy Ireland Survey and Health Behaviours in School-Aged Children Study.
Professor Catherine Woods, University of Limerick
Professor Catherine Woods is Professor of Physical Activity in the Department of Physical Education and Sport Sciences at the University of Limerick (UL). She is a member of UL's Health Research Institute (https://www.ul.ie/research/hri), and leads its recently established Physical Activity for Health Research Cluster, a multi-disciplinary group of core and associate members (https://www.ul.ie/hri/hri-research/research-clusters). Her research cuts across the HRI themes of lifestyle, health and technology. She enjoys developing and testing theoretically sound interventions to change population levels of physical activity, and seeks better, more systematic methods of bringing research, practice and policy closer together to achieve real and sustainable impact. She believes that physical activity is a best buy for public health as it has the potential to improve health and wellbeing for everyone, irrespective of age, ability or condition. She has led - as Principal or Co-Investigator – successful grant applications generating a total income of €14,100,242 (€4,070,512 to UL/DCU). She has successfully trained 10 PhD and 6 MSc research students, and currently have one research fellow and two post-doctoral researchers, two research assistants and six PhD students within my physical activity for health research team. This team have published numerous peer-reviewed journal articles and presented at >30 (inter)national conferences.
Mr Benny Cullen, Sport Ireland
Benny Cullen is the Director of Research and Innovation in Sport Ireland. Benny leads an inspiring team to deliver on a broad portfolio of research, evaluation and innovation projects in sport. The portfolio of projects ranges from Irish Sports Monitor and strategies for evaluating Sport Ireland's investments to hackathons like the global design challenge for sport and the development of an innovation hub. Benny plays a pivotal role in linking policy, research and practice in the Irish sports sector to help everyone in Ireland benefit from the wellbeing and joy of lifelong sports participation and physical activity.
---