New research from safefood reveals one quarter of us (25%) are cooking Christmas dinner for the first time this year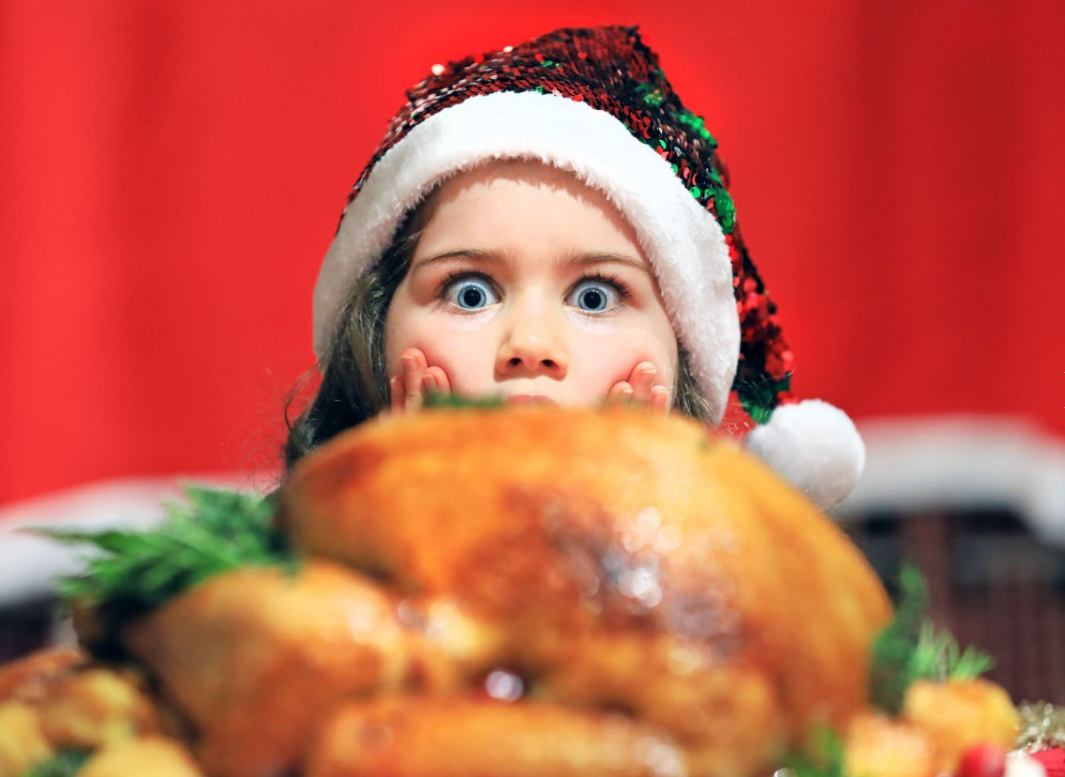 ---
safefood launches Christmas food safety campaign to help first timers and seasoned home cooks ensure they win at Christmas dinner this year.
It's estimated that 1 million turkeys are cooked on the island of Ireland each Christmas**
22% are nervous about the task ahead
Over 4 in 10 of those cooking Christmas Dinner (43%) will wash the Turkey before Cooking, contrary to food safety advice
In terms of checking if the Turkey is cooked, 51% will check the "colour of juices", with 38% basing readiness on the cooking time
Thursday, 12 December 2019: The most important meal of the year is fast approaching. Whether you're a seasoned Christmas chef or it's your first time hosting the festivities; safefood has busted the biggest food safety myths and has your essential tips and advice on how to cook a cracking Christmas dinner on the safefood website.
According to new research* commissioned by safefood, one quarter of Irish people (25%) will be cooking their first ever Christmas dinner this year, with a further 17% claiming to be relative novices, having only cooked Christmas dinner once or twice before.
The research reveals some points of concern; 43% of people still wash their turkey, which actually spreads food poisoning germs around kitchen surfaces and on ready-to-eat foods; 47% of us plan to cook turkey with the stuffing inside, which is only recommended when using a fan oven.
58% of people leave the turkey out of the refrigerator, sometimes overnight, mistakenly thinking this is the safest way to store the food. 85% of us expect to eat leftover turkey, however, 16% plan to re-use their leftover turkey 4 days or more after Christmas day, which is not advisable.
When it comes to confidence levels preparing the ultimate turkey roast, these vary with 22% of those surveyed claiming to be nervous, while 23% reported being confident about the task ahead.
December is the busiest month of the year on safefood.eu. In 2018, more than 103,000 people visited the food safety website just between Christmas Eve and Christmas Day to find Christmas cooking advice.
Dr. Linda Gordon, Chief Specialist in Food Science at safefood commented:
Christmas dinner is a classic that we all love, but there are still misconceptions out there about how to prepare and cook it safely. At safefood, we're here to take the stress out of Christmas for cooks. Whatever cooking method, timings or recipes you use; you know your turkey is properly cooked when there's no pink meat in the thickest part of the breast and thigh, the juices run clear and the meat is piping hot throughout."
"If you have Christmas leftovers, these should be covered and placed in the fridge within two hours of cooking and used within three days. If you're reheating leftovers, remember to reheat them only once until they're piping hot," continued Gordon. "Our website www.safefood.eu is stuffed with lots of useful resources including a turkey cooking-time-calculator, how-to videos and lots of tasty Christmas and leftovers recipes. And for any last-minute questions on Christmas Day itself, our safefood Chefbot will also be available to answer questions through Facebook messenger @safefood.eu."
Supporting safefood's Christmas food safety campaign, acclaimed Chef, Restaurateur and Author JP McMahon said: "Christmas is the best time of the year, but the pressure to make equally the best meal of the year is very high. Being prepared is the key, so if you have a clear idea of what you are doing and follow proper food hygiene practices, you're off to a great start! The most important thing is that you enjoy the day, so don't put yourself under too much pressure to cook overly complicated recipes. Plan everything out beforehand and stick to that plan. You can find everything you need to help you cook safely this Christmas Day on the safefood website. - Ends -
For further information or to request an interview, please contact:
Sally McLoughlin, Wilson Hartnell
Tel: +353 1 669 0030 Mob: +353 87 972 2549
Email: [email protected]
Clodagh Hogan, Wilson Hartnell
Tel: +353 1 669 0030 Mob: +353 87 774 6128
Email: [email protected]
Or
Dermot Moriarty
safefood
Tel: 00353 1 448 0600
Mob: 00353 86 381 1034 (Dermot)
Editors notes
*About the research
The research quoted in this campaign was conducted by iReach. iReach Insights use proprietary research panels across consumer and business groups, built on a nationally representative model. This study was conducted from November 28th to December 4th 2019 as part of the iReach Consumer Nationwide Omnibus survey delivering 1,000 responses on a nationally representative basis.
Other findings from the research
38% incorrectly determine whether a turkey is fully cooked by judging it by cooking time only, without checking there's no pink meat in the thickest part of the breast and thigh, the juices run clear and the meat is piping hot throughout.
84% plan to use leftover turkey within 1-3 days, which is perfectly safe if stored properly.
Christmas dinner is still a meal that we share mostly with family, as 87% of us plan to dine with our partners, children and the wider family. 8% of us will be eating with friends, while 5% will be enjoying the company of colleagues.
Among those surveyed, over half (54%) reported looking online for information and guidelines when it comes to researching how to prepare Christmas turkey, while 35% consult special Christmas cook books and 23% check out TV Christmas cooking programmes for inspiration.
** Irish Farmers Association (IFA) Poultry Sector 2015
December is the busiest month of the year on safefood.eu. In 2018, more than 103,000 people visited the food safety website just between Christmas Eve and Christmas Day. The dedicated Christmas hub, which features all things Christmas related tips and advice, had 575,000 page views last year.
---
Talking turkey: Christmas dinner tips and myth busters!
Christmas dinner is the largest (and most stressful!) meal that many of us prepare each year with turkey as the main attraction. Getting it just right, especially with the all-important turkey, brings a fair amount of pressure whether a cook is experienced or not. Remember, food safety never takes a holiday! Follow these tips and myth busters to make sure your Christmas dinner is both delicious and safe to serve to your guests.
TIP: Get your fridge festive fresh!
Getting your fridge clean for Christmas and ready for turkey is essential. Your fridge should be given a spring clean every 3-4 months while keeping on top of spillages and regularly wiping down shelves. Remember, storing your turkey on the bottom shelf means no drips will land on food spreading germs and leaving them unsafe to eat. You should also ensure any foods past their use-by date are thrown out.
Myth: You should rinse your turkey before cooking it.
FALSE! Rinsing turkey (or chicken or meat) is a definite no-no as this can spread food poisoning bugs around your kitchen.
Water that splashes from rinsing a turkey can spread its germs up to a metre (or an arm's length) around your sink. That means that bacteria can mingle with ready to eat foods, kitchen utensils like chopping boards and anything else that's in the vicinity.
The only way to destroy food poisoning bacteria is to properly cook your turkey.
MYTH: You can cook stuffing in your turkey in any type of oven
FALSE! Practise safe stuffing!
You should only cook the turkey with stuffing in a fan oven. For any other oven types, cooking stuffing separately from the turkey makes it easy to be sure it is thoroughly cooked.
For stuffed turkeys cooked in a fan oven, you should allow extra cooking time as safefood research has shown that when a turkey is stuffed in the body cavity, it is the centre of the stuffing that is slowest to cook. With stuffed turkeys, it is essential you check the stuffing itself is piping hot all the way through, as well as making sure the meat at the thickest part of the breast is cooked thoroughly before serving. Try not to overstuff the turkey; use a maximum of 10% of the weight of the bird in stuffing for example no more than 500g of stuffing for a 5kg turkey. To help with this, we have a Turkey cooking time calculator on our website.
MYTH: The bigger the turkey, the better!
False! Only buy the turkey you need to avoid unnecessary food waste.
If you're unsure, ask your butcher and think about how many people you're cooking for (children eat less than adults) and whether you want any leftovers.
For 4-6 people, a 3-4kg turkey should do
For 6-8 people, a 4-5kg turkey should do
For 8-10 people, a 5-6 kg turkey should do
MYTH: You can cook your turkey from frozen!
False! Give yourself enough time to defrost your turkey.
For a frozen turkey or any frozen poultry, the safest and recommended way to defrost it is to place it on a dish or tray on the bottom shelf of your fridge. Remember to allow 24 hours for every 4-5 pounds / 1.8-2.2kg. Give yourself plenty of time; it can take up to 3 days to fully defrost a frozen 7.5kg / 15lb turkey, so you may need to take it out to defrost on December 22nd.
You'll know it's fully defrosted when:
the body is soft
the legs can be moved and
there are no ice crystals inside the cavity
Once thoroughly defrosted, a previously frozen turkey cooks the same way as a fresh turkey.
TIP- Cooking calculations!
Don't leave your turkey cooking time to chance! Raw poultry and meat can contain germs like Salmonella and Campylobacter and it's important to cook these foods thoroughly. Preheat your oven to 180° (Fan assisted) and cover the turkey with tinfoil during cooking as this helps it to cook more evenly and gives a more "juicy" product. The turkey should be basted every hour during cooking. (The tinfoil can be removed for the last half hour to finally brown the skin). You can find cooking times for your turkey size at www.safefood.eu or by asking our Chefbot – you can find him on Facebook Messenger.
TIP: Calm down the carving!
Remember, don't rush to carve the stuffed cooked turkey straight out of the oven!
One way of making sure that the stuffing is properly cooked, without risking overcooking the meat, is to remove the turkey from the oven when the meat is fully cooked and leave it to rest for 30 minutes, loosely covered in tinfoil.
MYTH: You know your turkey is done by the clock
FALSE! How do I know my the turkey is cooked? There's not just the time to consider!
Using a clean fork or skewer, pierce the thickest part of the breast and thigh. You'll know it's cooked when:
It's piping hot throughout
Its juices run clear
There is no pink meat left
Any stuffing is piping hot throughout
TIP: Leftovers are not for life!
Cover any leftovers and place in the fridge within two hours of cooking. Ensure any meat is cooled as quickly as possible – cutting it into pieces will help with this. Once in the fridge, any leftovers should be eaten within three days.
TIP: Chill that meat!
If freezing leftover meat or poultry, wrap well and make sure it is stored in a suitable container for freezing. Freeze cooked meat for no more than 6 months approx. This is for quality rather than safety
Do's and Don'ts of re-heating!
Remember, if food is already cooked – only re-heat food once!
When re-heating food, ensure it is piping hot all the way throughout.
Tip: Christmas doesn't have to mean excess
If you're looking for healthier options at Christmas, you can also:
trim the skin from your turkey or fat from your ham
try a breadcrumb, nut and seed stuffing instead of sausage
Roast potatoes in a little vegetable oil as a healthy alternative to butter.
Steaming vegetables instead of boiling or roasting them
If you've any questions about food safety during December, why not ask our Chefbot – you can find him on Facebook Messenger.
From all at safefood, wishing you and yours Happy Christmas!
---