Healthy barbeque tips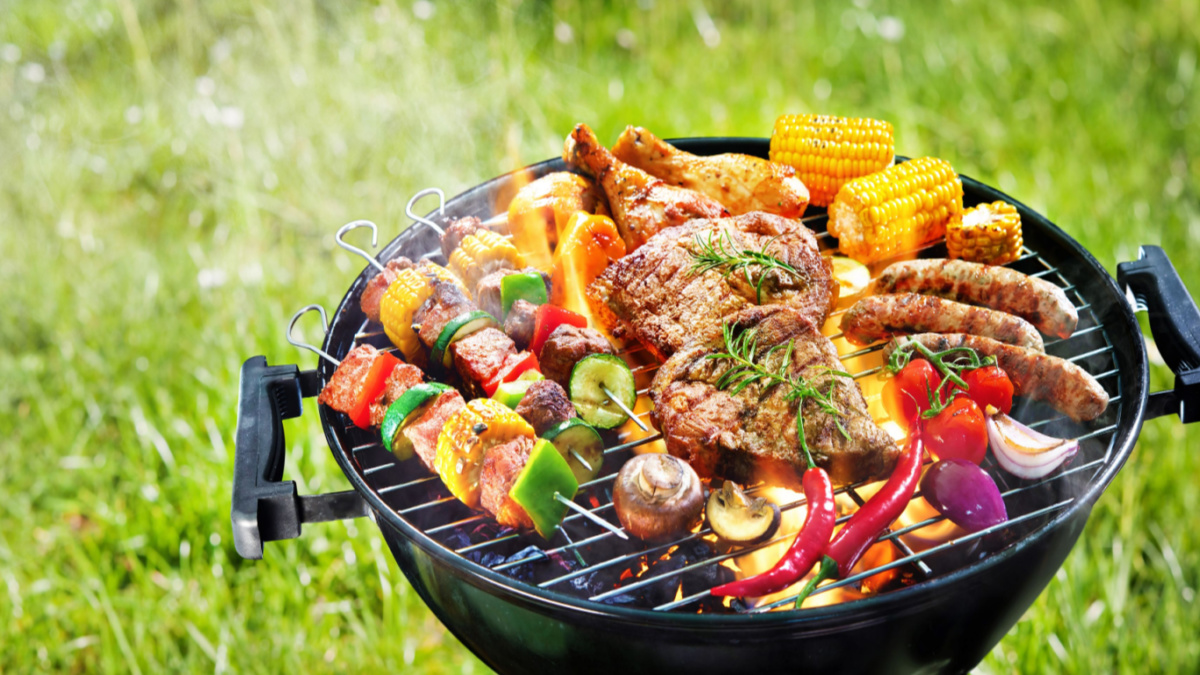 ---
safefood offers top tips on how to have a healthier barbeque this summer
28 July 2022; It's summer, the sun is out (if only for a few days!) and that can only mean one thing, it's time to dust off the barbeque, invite some friends or family around and relax with a tasty meal. Yet, it can be easy to overdo it and forget about healthy eating habits. The good news is, there are lots of ways to ensure your barbeque is both delicious and healthy.
safefood has shared the following tips for savvy summer home chefs:
1. Fill up on veggies
Vegetables are often forgotten at a barbeque. Why not make some vegetables kebabs with onions, mushrooms, and courgettes? Another option is to pop your vegetables on the barbeque, resulting in a great side for meat and fish dishes.
Corn, onions, and peppers are well-known favourites as they turn deliciously sweet when barbequed. For a refreshing side salad combine crunchy lettuce, spinach, tomatoes, cucumber, and mint. Also, be sure to check what is in your fridge as it is a great opportunity to use leftover vegetables.
2. Go lean
Meat is often the star of the show at a barbeque, with higher fat options such as sausages in abundance. A healthier option is to go for leaner cuts of meat such as chicken and fish, or turkey varieties that usually contain less fat.
3. Downsize your portions
Use your hand as a guide. A healthy serving of meat is half the size of the palm of your hand. Filling half your plate with vegetables or salads can help to avoid over doing it.
4. Hidden calories
A lot of bottled sauces and pre-made sides can be high in sugar and fat. To add extra flavour without the calories, use herbs and spices to flavour meats, and lemon juice or balsamic vinegar as a dressing for vegetables and salad.
5. Stay hydrated
Have an ice-cold jug of water on the table to stay hydrated in the summer heat. Switch it up by adding some mint, cucumber, lemon, grapefruit, or berries. If you are drinking alcohol, remember less is more. Try alternating your alcoholic drinks with water and using smaller glasses, keep tasty alcohol-free options to hand.
6. Think fruit desserts
The natural sugars in fruit caramelize and give extra sweetness when cooked on the barbeque, pineapple slices and peach slices work well. Or try making Barbequed Fruit Kebabs with all your favourite types of fruit, these can be eaten with or without grilling.
Anne Parle, nutritionist with safefood says:
"Barbeques might traditionally be seen as unhealthy, with a tendency for us to over eat and with an emphasis on fattier meats, but with a few small changes, they can be both healthy and delicious. Focusing on including fruit and veg, opting for leaner meat or fish, and watching portions could make a big difference"
Why not put our tips to the test with these healthy recipes?
Also, just because you are cooking outdoors, do not forget food safety! Check out safefood's Trust the Meat Thermometer campaign to find out more.
For further information or to request an interview, please contact:
Wilson Hartnell
Heidi Morgan/Cliona Plunkett
Mob: +353 (0)87 297 2046 (Heidi) +353 83 854 4924 (Cliona)
Email: [email protected]
Or
safefood
Dermot Moriarty/Maeve Wrixon
Mob: +353 86 381 1034 (Dermot) +353 87 437 2080 (Maeve)
Email: [email protected]
---