Cost of a healthy food basket in Northern Ireland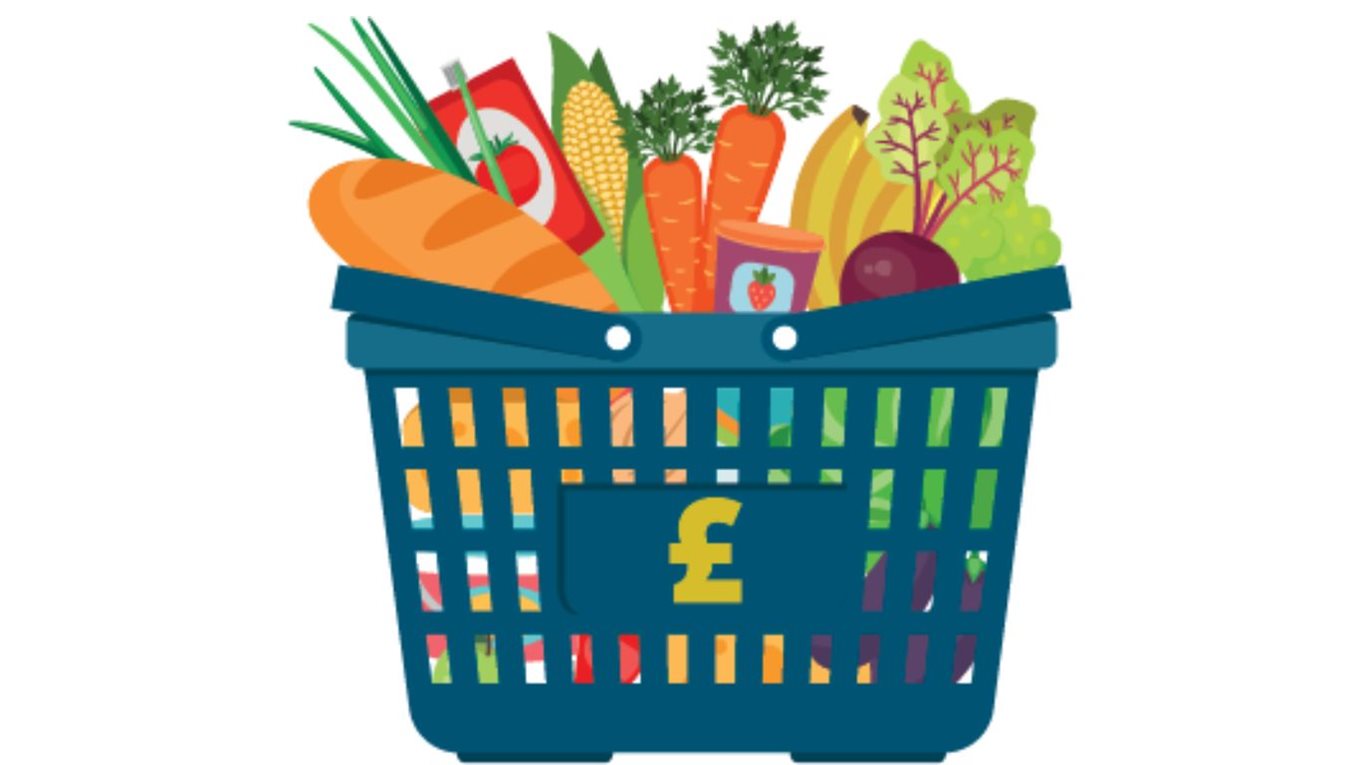 ---
Lower-income households struggle to afford healthy foods as food prices rise in Northern Ireland
New safefood report reveals food inflation and the cost-of-living crisis are creating health divisions in Northern Ireland
For some Northern Ireland households, food costs take up 45% of the total household income, forcing families to compromise nutrition for cheaper food products.
Monday 22nd May 2023: Lower-income households in Northern Ireland are struggling to buy healthy foods as the impact of inflation sees the cost of their weekly food shop eat up almost half of their total income.
A new report¹ by safefood on the cost of a healthy food basket has revealed some families spend up to £169, almost half (45%) of their take-home income, on food, with families with teenage children paying an extra £40 per week on food than those with younger children.

Inflation, soaring energy costs and the increased price of food over the past few years have been attributed to the pressure placed on low-income households and subsequently a more pronounced nutritional inequality among the Northern Ireland population.
Recent data² shows that grocery price inflation rose again and now stands at 15%, up from 13.8% in January.
FSA Director for Northern Ireland, Andy Cole said "Tight budgets make it more difficult for households on a low income to eat well, potentially leading to health inequalities. The 2022 Food Basket research adds to an evidence base aiming to shape Northern Ireland's policies to address food need amongst the most vulnerable in our society."
Dr Aileen McGloin, Director of Nutrition with safefood said: "Average food prices are now at their highest since we started this series of research in 2014. We're seeing a consistent pattern of households trying to balance buying an affordable food basket with other rising household expenses.
"With food shopping being the only flexible household spending, many families are being forced to choose cheaper and often nutritionally poor food items to keep food spending within their means and this is a really worrying trend".
The"What is the cost of a healthy food basket in Northern Ireland?" report found that a two-parent household, who rely on benefits, with two children in primary and secondary school, their weekly food shop is £169 or 45% of their income. This represents an increase of 4.3% in their total food basket costs since the research was last conducted in 2020.
A food basket for a single pensioner living on their own has increased by 4.9% in the same period and costs them £64 per week, which is 29% of their income.
Dr McGloin "For all families with children, food is the largest household cost, and this has only been exacerbated by the rises we have seen in inflation in the past 12 months. Foods¹ like meat, fruit, vegetables, dairy, bread, and cereals make up two-thirds of food costs for families and these foods have increased in price between 3% and 7% in the last two years."
The contents of the food baskets in the safefood survey were based on menus put together by the households themselves. People selected an acceptable food basket in terms of taste and menu choices, while also meeting the social needs of a household, for example hosting visitors or special occasions like birthdays. The food baskets were reviewed by nutritionists to ensure they met the nutritional guidelines and then price-checked accordingly.
Download the report

Download a summary of the report

For more details go to safefood.net/researchreports
Ends
For more information or to request an interview, please contact:
ASG & Partners
Russell Lever
Mob: 077 8828 8901
Email: [email protected]
Or

safefood
Dermot Moriarty
Mob: 00353 86 381 1034
Email: [email protected]

References
¹ "What is the cost of a healthy food basket in Ireland?" safefood 2022
² British Retail Consortium (BRC)-Nielsen Shop Price Index for March 2023

Editor's Notes:
The safefood research looked at FOUR household types for the study which were as follows:
Two parent & two children (pre-school & primary school age)
Two parent & two children (primary & secondary school age)
One parent & two children (pre-school & primary school age)
Pensioner living alone.
There are currently a range of Government programmes, schemes, and supports to address Food poverty in Northern Ireland. Some of these include:
Safefood Community Food Initiative (CFI)
The aim of the Community Food Initiative (CFI) programme is to positively influence the eating habits of families with children in low-income communities. The community initiatives support the development of skills and knowledge around food and healthy eating, healthier shopping and cooking skills.
All-island Food Poverty Network
The Network was established in 2009 to provide a co-ordinated and strategic approach to tackling food poverty on the island of Ireland. It supports the development of consensus on related issues, collaboration and shared learning.
The Network is co-chaired by safefood and The Food Standards Agency, Northern Ireland. The network newsletter shares the latest in food poverty research, programmes and initiatives both nationally and internationally. Each year the network hosts a conference on a themed topic to share learning with stakeholders.
Transform your Trolley
A joint project delivered by safefood and the Healthy Living Centre Alliance to support communities to achieve a healthier, balanced food shop.
Research
safefood continues to publish and commission research in this area, in addition to the Cost of a Healthy Food basket work that started in 2014, safefood commissioned in 2022 a research project on best practices in communicating food poverty and understanding the current food poverty discourse on the island of Ireland.
The Food Standards Agency have a role in monitoring food insecurity, primarily through the Food and You 2 survey. This survey uses the U.S. Adult Food Security Survey Module developed by the United States Department of Agriculture to measure consumers' food security in England, Wales and Northern Ireland every six months.
---